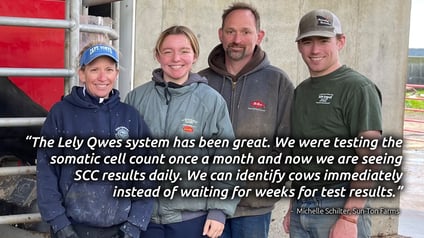 The Schilter family of Chehalis, Washington recently added four Lely Astronaut A5 robotic milking systems to their organic, grazing dairy operation as they prepare for the next generation to return to the farm.
"We have been looking toward the future with our son in mind and considering issues such as labor. It made the most sense to add robotic milking systems especially with our son coming home and passing this dairy on to the next generation," Michelle Schilter says.
Michelle, her husband, Lonny, and their three children operate this organic dairy farm in western Washington. Their herd includes about 500 cows, milking about 220, mostly red and white Holstein, and farm about 500 acres. They became a certified organic farm 16 years ago.
The Schilter family has a long history of operating dairies that stretches back generations. Lonny's grandparents immigrated from Switzerland and started a dairy in the Olympia area. After trying a few other jobs, Lonny's father, Tony, returned to dairy farming in the early 1960s in various locations before settling in Chehalis. Michelle and Lonny graduated from California Polytechnic State University in the mid-1990s and he returned to the farm. Soon after, they were married and are proud to have raised their three children here.
Their oldest son, Zach, is studying at the University of Minnesota and plans to return to the dairy and farm soon. The other two children help on the farm when they are not in school.
Choosing Lely

Michelle says the family looked at robots from other companies in addition to Lely. But the choice quickly became clear.

"Zach has been the driving force behind the robots and had Lely in mind from the start," says Michelle.

Having friends who successfully use Lely robots on their organic dairy was an important factor in their decision to choose Lely.

"Our priority was making sure the robotics work well as a milking system with our organic certification," Michelle says "It has worked great for our friends so that helped us. In addition, from everything we saw, Lely really focuses on the cow and that was important to us. That is how we dairy here."
Barn Design

In 1990, the family built a 300-stall freestall barn, which was uncommon for the area.

"It has really worked well here with the way the dairy is situated," Michelle says. "It works well in our climate."

As the Schilters began preparing to add robots, new construction was off the table.

"We decided to take this step during COVID and building changes didn't make financial sense. Prices have skyrocketed and supply shortages made it out of the question," she says.

Instead, they worked with the Lely Center, Dairy Specialists NW to create a plan to take out a section of stalls and create an L-shape design in the barn. In the future, they plan to extend the barn and add stalls back in an outside area.
Startup

In May, startup began with two Lely Astronaut A5 robotic milking systems. Two more were installed in May.

Although the startup to robots is still fresh and adjustments are being made, Michelle says the startup was great because the family had so many people helping them.

"I'm glad that the Lely Center came in and said, 'you need to do it this way and here are our recommendations,'" Michelle says. "Schedule and routine help train the cows and makes it works best. Greg with Dairy Specialists NW has been great, answering our questions or helping us on nights and weekends."
Lely Information Already a Benefit
Although it's only been a few weeks since the robots were installed, the information the Schilters are gaining from the machines has been tremendous, according to Michelle.
The Lely Qwes cow-recognition system provides insight into the health of cows.
"It's been great," she says. "There are a couple areas where we have seen such a huge difference. We were testing somatic cell count (SCC) once a month and now we are seeing the SCC results daily. We can tell immediately if there is a cow that is having trouble. We can identify the cow immediately instead of waiting for weeks for test results."
In addition, rumination activity is easy to identify right away.
"Previously, if we hadn't noticed a cow in the barn and a milker didn't say anything to us about a cow being off for a couple of milkings, a lot of time would pass before we recognized that a cow was not performing as usual. Now, we can identify the cows early, we can administer her and address the problem quickly," Michelle says.
The Qwes system is also available with heat detection.
"The heat detection alert is an amazing piece of information to have," she says. "So instead of us checking cows daily, we can spend time doing something else. It's exciting to us because if we are seeing these benefits already, we look forward to what will be seeing in six months or a year from now."
Follow the Sun-Ton Farm and their Lely journey with Dairy Specialists on social:

Sun-Ton Farm Instagram

Dairy Specialists Facebook