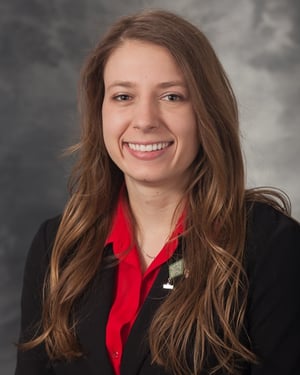 Lely North America has selected five applicants to receive a $1,000 scholarship to assist them as they pursue their degrees that will allow them to contribute to the dairy industry. Rachel O'Leary was selected by a panel of independent, dairy-industry experts based on her exceptional qualifications, essay response to the question 'How would you explain the benefits of dairy automation to consumers,' and letters of recommendation.
Now attending the University of Wisconsin School of Veterinary Medicine, Rachel has been successful in academics and enjoyed the agricultural experiences and participation in numerous organizations. Multiple veterinary internships have provided Rachel with the experience and knowledge she needs to be successful within the dairy industry.
As part of her essay response, Rachel wrote:
As I said in the beginning, many people think of farmers as working dusk to dawn, and they are absolutely right. With the help of automated systems, farmers get more of a break to partake in those crucial family moments they normally have to miss because of chores. They also get more time to focus on planting and harvesting time, making their crops a better product for consumers and their livestock. Finally, automated systems take away the worrying aspect of farming, having to rely on outside people to take care of the most important part of their family operation, the cattle.
Rachel's love for animals and respect for the people who care for them is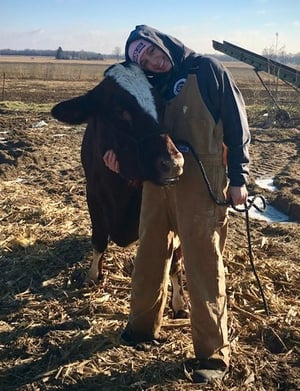 apparent in the glowing recommendations received from her academic advisors. Lely North America is pleased to aid students like Rachel as they pursue their dreams of working within the dairy industry.
"I would like to thank Lely and their scholarship committee for selecting me, along with four other well-deserving students, as recipients of their scholarship," said Rachel. "Without wonderful businesses and organizations like Lely who offer scholarships such as these, I would not have been able to make it as far as I have. It is these businesses who continue to support and invest in the dairy industry not only through the work they do in it, but also the support they give to the youth who will continue to grow and become the future of it. I cannot thank Lely enough for selecting me as one of the recipients and allowing me to focus more on fulfilling my dream of becoming a food animal practitioner focusing on dairy medicine and less on the financial burdens of eight years of college. Thank you!"
Congratulations, Rachel!
Other Recipients: