For Brad Putz, part owner of Putz Dairy near New Vienna, Iowa, growing up was a tale of two dairies. At least four generations of the Putz family have been Iowa farmers. Brad's grandfather and father milked cows in a stanchion barn for many years, later converting it into a step-up parlor.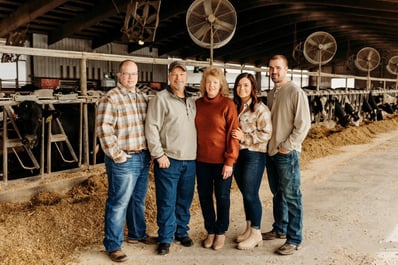 After the conversion, Brad grew up working on his family farm, raising, and milking a herd of Holsteins in a traditional parlor. In 2012, the family decided to switch to robotics. Originally, the Putz family planned to build a new tie-stall barn to accommodate their growing herd of Holsteins. The decision to move forward with automation came as Brad's mother felt robotics were the inevitable future of dairy making automation the obvious choice.
After touring multiple robotic dairies in Minnesota, they built a new free-stall barn in a three-row configuration with two Lely Astronaut A3 Next robotic milking systems in the center. Just 14 months later, a 19-year-old Brad and his 17-year-old brother Jeremy decided to purchase their own herd of 36 Jerseys.
Brad and Jeremy continued to work with both their parent's Holsteins as well as their own Jerseys for the next ten years. They purchased their own facility in 2020 for their steadily expanding herd, just down the road from the farm they grew up on.
In 2023, after a decade of working with the Lely robots in their parents' barn, the Putz brothers continued the family tradition and installed robots of their own. Two Lely Astronaut A5 robotic milking systems came online in February, milking 75% of their 160 head of Jerseys.
For Brad, the choice to bring in Lely automated solutions was made even easier by his local Lely Center, Precision Dairy Equipment (PDE) out of Elkader, Iowa. Recalling the experience of planning for and installing the robots Brad says it was,
"So smooth it was almost scary. PDE has always been our dealer. From the step-up parlor to mom and dad's robots. If we have a problem, it doesn't take them long to get here."
He notes the dedication of the PDE team to ensuring his success during start-up. Arriving at the farm on Tuesday, their start-up day, members of the PDE team were on site 24/7 through Friday, switching out for day and night shifts. They assisted with pre-installation advice like manually brushing cow's teats to help prepare them for the experience of robotic milking.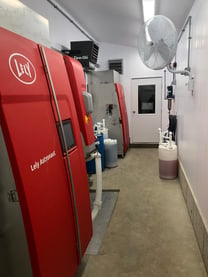 Brad described the process as, "A piece of cake. The cows were already in the barn. They saw the whole construction process at the end of their pen."
Brad and Jeremy personally pre-trained their herd for three days, moving cows through the robots once a day and pellet feeding to acclimate them to the new system.
"To me, that was the most valuable thing," Brad said. "Cows began to move through the robots on their own just two days after start-up, compared to five days or a week typically."
Brad, Jeremy and their parents still run two herds on their two farms. His parents' herd of Holsteins has grown to 145 while his own Jersey herd has reached 160 head. They look forward to many years of automated farming with Lely robotic systems.
To learn more about dairy automation with Lely, click below:

Precision Dairy Equipment