In 2000, Point Reyes Farmstead Cheese Co. was the first creamery in California to offer a locally made blue cheese made from raw milk and produced on their own farm. Their story, however, begins much earlier than that.

Over 60 years ago, Point Reyes began as a dairy owned by local dairyman Bob Giacomini. His grandfather, Tobias, emigrated from Northern Italy in 1904 with a dream of starting a farm in California's fertile valleys. Known to friends and family as "The Big Cheese", Bob grew up working on his father's dairy on the other side of Tomales Bay from the present-day facility. After years of hands-on learning, he completed a degree in Agricultural Science at U.C. Davis and returned to Tomales Bay where he purchased Point Reyes' current 720-acre facility with his wife Dean in 1959.
Growing the Dairy and Adding Lely Robots
The next few decades brought growth and challenges for Bob and Point Reyes. By the mid-90s their operation had expanded significantly to over 500 head of cattle, requiring them to re-evaluate the impact on their farmland. They reduced the scope of their cattle operation and with the help of three of his daughters (Diana, Jill & Lynn) opened a creamery that began making Point Reyes Original Blue with milk exclusively from their Holstein herd on August 1st, 2000.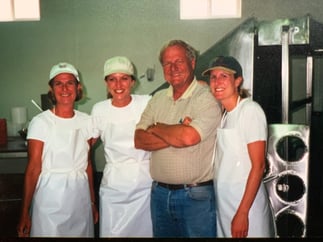 Over 20 years later, innovation continues to be a pillar of the Point Reyes mission. Current Dairy & Herd Manager Dan Ziegler leads a team of seven humans and 11 robots that produce the milk for Point Reyes cheese. Housed in a retrofitted loafing barn with a triple-L layout, the first wave of six Lely Astronaut A5 robotic milking systems came online in the fall of 2019, followed by two more in March of 2020. Ziegler reports they very quickly saw an increase in production by switching 100% of their now 450 head herd to robotic milking, with fluid milk levels rising 30% from 68lbs previously to 88lbs presently. Seeing the immediate benefits of robotics, Point Reyes added three Lely Juno automatic feed pushers to ensure their herd always has fresh feed at the fence.
Transitioning to Robotic Milking
In addition to production benefits, Ziegler says working with TDR, Inc. has been a critical part of the process. They touch base once a week to cover quick questions and updates as well as helping interpret data generated by the robots. Ziegler specifically mentions rumination as a data point critical to reaching the farm's goals, saying,
"We choose Lely products because of their history and experience with robotic milking. I believe that Lely really looks at the cow's point of view in their design and management programs,"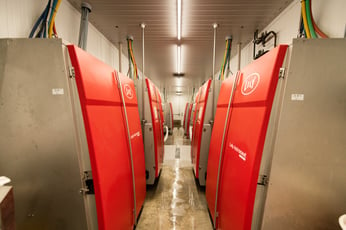 Ultimately, the decision to switch to robotics was only partially based on production increases. Other motivating factors were cow comfort, efficiency and labor issues. Ziegler says instead of reducing staff when robots were installed, they were able to utilize team members in new ways to support other growing areas of the business, reducing the need for additional hiring. Additionally, robotic milking systems increase cow comfort which the Point Reyes team feels strongly improves the quality of their milk.
Awarded official dual certification from The Women's Business Enterprise National Council (WBENC) as well as a Women-Owned Small Business (WOSB), Point Reyes Farmstead Cheese Co is now under the leadership of co-CEOs Jill, Lynn and Diana. Bob, "The Big Cheese" still takes a hand in day-to-day dairy operations, mentoring the team on sustainable and regenerative practices..
To learn more about dairy automation with Lely, click below:

Point Reyes Farmstead Cheese

pointreyescheese

TDR, Inc.

turlockdairyrefrigerationinc