Pella, Iowa, March 13, 2017 – Lely international, a family-owned company, intends to sell its Forage business, which produces fora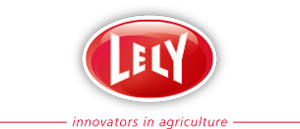 ge harvesting machines to AGCO Corporation, recognized worldwide as a leading player in design, manufacture and distribution of agricultural machinery.

The intended sale of its Forage activity will allow Lely to fully concentrate, going forward, on the Dairy segment: the development of milking robots and other innovations for increasing the efficiency, sustainability and animal welfare at dairy farms. Thanks to its unique expertise with automated systems, Lely will be able to further strengthen its leading position as innovator in the Dairy sector worldwide.

The takeover allows AGCO Corporation to further broaden its range of forage harvesting machines.
Market developments make choices necessary
The Lely business had, until now, focused on two totally different product categories and markets with its Dairy and Forage business units. Therefore, the company started a strategic reorganization some time ago. This analysis revealed that, to be able to continue operating successfully in the market, the organization must adapt to the increasingly wide range of requirements of its different product groups.

The result of the strategic reorganization is that Lely plans to focus on the development of robotics and other innovations in dairy farming. CEO Alexander van der Lely explains: "Lely intends to focus entirely on its role as innovator in the field of robotics, and sensor and data systems for use on dairy farms. Over the last 15 years, these product groups have grown into a successful activity for Lely, with a great deal of potential for the future. Besides the innovative milking robot, other products have also been developed that are primarily based on automation with the aid of robots." The production of these Dairy machines will stay in Maassluis (The Netherlands), Pella (Unites States) and Leer (Germany).

At the same time AGCO's CEO Martin Richenhagen is pleased with this strategic acquisition: "The integration of Lely's industry leading competence in hay and forage harvesting will further strengthen our relationships with our dealers and customers worldwide".

Effect on jobs
The intended sale of the Forage activities has an effect on jobs at Lely:
The Forage machines that are produced in Maassluis, The Netherlands (mowers, tedders and rakes) overlap with the AGCO Corporation's range. The production in Maassluis will be reduced after sale. The expectation is that these activities will be discontinued as of 31 March 2018.
All employees in The Netherlands remain employed by Lely. Approximately 95 employees working in production will be temporarily outsourced to AGCO Corporation. After that, a solution is sought for their future inside or outside the company.
The German factories in Wolfenbüttel (balers) and Waldstetten (loader wagons) will become the property of AGCO Corporation and the employees will be employed by AGCO Corporation. Lely's vice-president Sales, Gijs Scholman, explains: "The sale of Forage offers these employees a chance of a better future with a company that fully concentrates on the manufacture of tractors and agricultural machinery".
Some of the Forage employees of our international Lely Support Organizations (LSOs) will be employed by AGCO Corporation.
The Joint Works Council in The Netherlands is asked for its advice about the intended sale, and reorganization of the organization. The relevant trade unions have also been informed.

For the family-owned company Lely, that started in forage products, this is a big step that they want to take with care. Lely attaches a great deal of importance to the honest and respectful treatment of its employees. The point of departure for the intended plans is always to retain as much employment as possible and to work with the employees on building a healthy future for the company in Dairy.

About the Lely Group
Lely North America, based in Pella, Iowa is a part of the Lely Group. Lely, founded in 1948, directs all its efforts towards creating a sustainable, profitable and enjoyable future in farming for its customers. Lely works on business concepts to ensure energy-neutral operations in the dairy sector. Every day we inspire people to bring innovative solutions to our customers, from advice to support executing the choices they make.
For many years, Lely has been leading in automated milking systems. The Lely Group is active in more than 60 countries and employs around 2,000 people.

For more information about Lely, its products and services visit: www.lely.com.

About AGCO
AGCO (NYSE: AGCO) is a global leader in the design, manufacture and distribution of agricultural solutions and supports more productive farming through its full line of equipment and related services. AGCO products are sold through five core brands, Challenger®, Fendt®, GSI®, Massey Ferguson® and Valtra®, supported by Fuse® precision technologies and farm optimization services, and are distributed globally through a combination of over 3,000 independent dealers and distributors in more than 150 countries. Founded in 1990, AGCO is headquartered in Duluth, GA, USA. In 2016, AGCO had net sales of $7.4 billion.
For more information, visit http://www.AGCOcorp.com.