Lely Technical Service Support (TSS) and Farm Management Support (FMS) personnel located throughout the United States and Canada, are experts in equipment, feed nutrition, veterinary medicine and more. TSS representatives are Lely's boots on the ground and the first line of support for installation, troubleshooting, repairs and maintenance on all things Lely.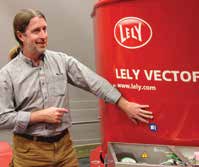 Lely gives Thane Silliker that rare opportunity to be a technician while also getting hands-on customer contact at the ground level.
"The thing I most enjoy about Lely is the focus on technology and improvement," Silliker says. "The tinker and technician in me is challenged to learn, understand and share."
He ensures Lely dealers have the technical know-how to spec out and sell a Lely Vector automatic feeding system and that technicians are prepared to service what they sell.
"I ensure that dealers have the knowledge to install and maintain products in the feeding and barn products category.
Specifically, I direct the technical details of rollouts of the Lely Vector automatic feed systems," he says.
Feedback from Silliker is then shared with Lely at the highest levels. "I contribute to the smooth operation of the system worldwide by communicating our experiences back to the company in order to bring about improvements in the product," he says.
In his two years with Lely, he has rarely faced a "typical week" because of the wide variety of activities he's involved with.
"Some days I'm in the field. Other days I'm teaching. Then there are days I'm conducting tests and creating training documents to share with colleagues or the company," Silliker says. "It's nice to be appreciated and supported by an organization that values employees, one that's interested in their well-being and development. Lely is more than a profit generating enterprise. It's a family-oriented atmosphere that cares about people and the environment. It's been a pleasure to be a part of building something."