The Farm
Malenka Farm is located in Saint-Joseph- de-Kamouraska, QC. It was purchased in 2005 by Bruno Ross and Tasie Fortin.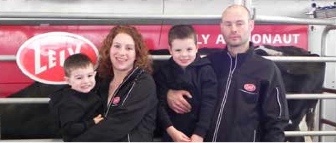 Changes on the Farm
At first, the farm had a quota of 38 kg/d with a 40-cow stall barn. Since 2005, Tasie and Bruno have made significant investments to improve the facilities on the farm. Among others, bunker silos were built in 2008, a liquid manure pit in 2010 and in 2012, they built a robot barn. The farm now has two adjacent stables: the new robot-barn (128 ft by 188 ft) with six-row outer feeders and natural ventilation as well as the old tie-stall barn (70 ft x 144 ft), which was renovated into loose housing for heifers.
Installation and Adaptation
When the two Lely Astronaut A4's were purchased, the main objective was to produce more milk with minimum labour. It is in this perspective that the barn was designed for one person to make the governance of a quota of 150 kg/d. For the farm, this change provoked questions in terms of the adaptation of the herd. "Since we went from a constrained barn to a free-stall barn, the initial objective was to take a year to make the transfer of animals," said Tasie. "However, the transfer was done in a month. Everything went well. All cows were quickly accustomed to their new environment and robots. The results exceeded our expectations." She has only compliments for their Lely advisor, Pascale Dumais: "If we succeeded, it was thanks to the work and coaching of Pascale. She was an excellent coordinator."
In addition to the owners, the farm has two part-time employees who help in the fields and with maintenance. After nearly a year with the robots, progress is easily seen: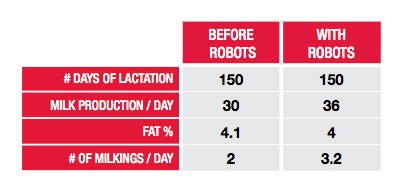 Numbers progress continuously and allow the farm to produce 100 kg/day with 70 lactating cows. Tasie and Bruno appreciate the technical assistance and advice of the Lely team and greatly enjoy all of their Lely products. In the coming years, this young couple wishes to continue to improve herd performance and hope to expand.