Queen Máxima has officially opened the Lely Greenest Innovation Campus in Maasluis (Netherlands) on the occasion of its opening ceremony. With this campus Lely - as the worldwide market leader in dairy farm automation - paves the way towards sustainable and innovative business in the agricultural sector, making real innovation contribute to an enjoyable future for both people and animals.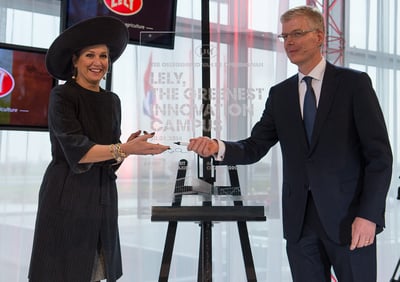 Queen Máxima signed a glass plaque following a symbolic handover of the globe to the next generation. After this, Queen Máxima took part in a Round Table on the future of dairy farming. It became clear during discussions that the challenge dairy farmers are facing in the Netherlands to continue to responsibly supply a growing population with dairy products is one felt all along the production chain. It is precisely the innovative developments from the Dutch manufacturing industry that will help dairy farmers across the world face this challenge, both now and in the future.
Sustainability is a clear concern for Lely. There is no question that this new building had to comply with the strictest standards of sustainability. The Lely Campus has been awarded the BREEAM certification of 'Outstanding', as the most sustainable office and production complex in Europe.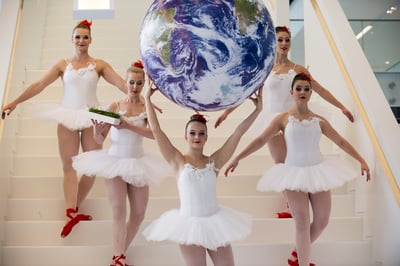 The Lely Campus opened its doors at the end of 2013 in Dijkpolder, Maassluis. This is where the family business was set up 65 years ago by the two brothers Cornelis and Arij van der Lely. Since then, the business has grown to become a global player in the production of innovative machines and solutions for dairy farmers.
_______________________________________________________________________________
About the Lely Group

Lely directs all its efforts towards creating a sustainable, profitable and enjoyable future in farming for its customers. Lely is the only company worldwide to supply the agricultural sector with a complete portfolio of products and services ranging from forage harvesting to automated feeding systems, barn cleaners and milking robots. Lely is also working on business concepts to ensure energy-neutral operations in the dairy sector. The Lely Group is active in more than sixty countries and employs some 2,000 people.