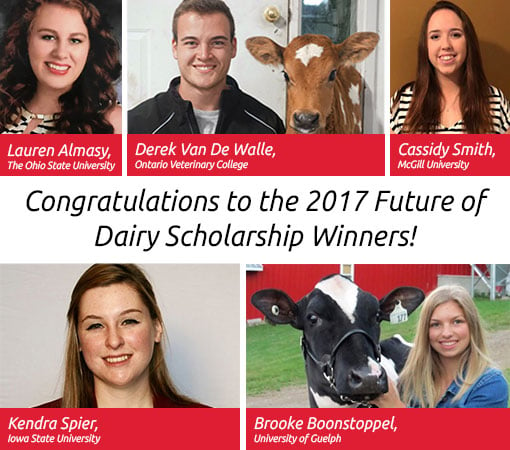 Lely North America is proud to announce the recipients of the Lely North America Future of Dairy Scholarship Program, which provides support to those who will help build the future of the industry.
Congratulations to Lauren Almasy, The Ohio State University; Brooke Boonstoppel, University of Guelph; Cassidy Smith, McGill University; Kendra Spier, Iowa State University; Derek Van De Walle, Ontario Veterinary College.
Each winner will receive a $1,000 scholarship. To apply for the scholarship, students had to be enrolled at an accredited junior college, college, university, or graduate school, in a program that can equip the student to contribute to the dairy industry. Students must also have been current or previous members of the 4-H or FFA organizations.
"Each year Lely is continually impressed by the breadth of activities in leadership, community involvement, academics and future aspirations of the applicants," says Bellana Putz, Customer Sales Support Manager. "The agricultural sector has a bright future of talented students preparing themselves for their professional careers. Lely North America is proud to support five students in this way and encourages youth to job shadow and explore the various opportunities Lely, its Lely Centers and Lely farms can offer for fulfilling careers."