The final two of four finalists named for The Way to Dairy Award are Dustin Takes of Takes Dairy Farm in Iowa and Charles Carter of Carterly Farm, Inc. in Indiana. Lely North America presented these two finalists at World Dairy Expo in Madison Wisconsin. The other two finalists were announced at the Canadian Outdoor Farm Show in September.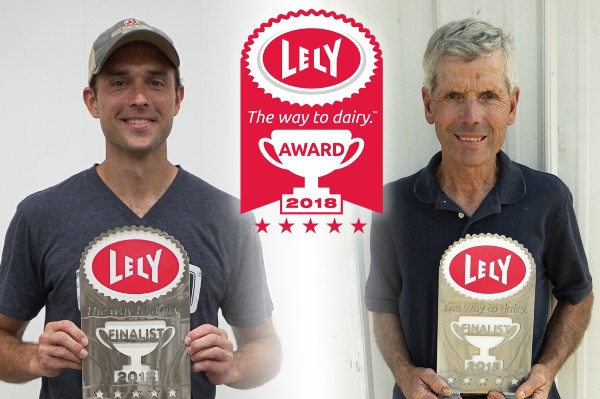 Takes and Carter are both involved in thriving family dairy operations, dedicated to finding innovative solutions to continue supporting a growing economy while maintaining the health and productivity of their herds.
In an essay submitted for the award, Takes wrote that at Takes Dairy Farm and their subsidiary, Dan and Debbie's Creamery, they feed a growing global population by using their raw milk as the single-source used daily at their creamery. "Having added value to our raw milk commodity through the production and marketing of finished dairy goods is one of the many ways we are directly helping to feed a growing global population," he wrote. "As the world's population continues to grow, achieving global food security through the production of nutritious dairy, with sustainability in mind—is arguably one of the greatest challenges we face today."
In the submitted essay, Carter wrote that he knows that investments in new ideas and facilities are invigorating, but investments in people are priceless. "Each summer, for the last 20 years, approximately twenty-five kids descend upon our farm to learn about showing a calf (through the 4-H program)," he wrote. "We provide the animals, feed and bedding, transportation to the fair, clippers, and supervised opportunities for the 4-H members to train and fit their leased animal. The week of the fair, each 4-H member has sole responsibility for the care of his or her animal. Character building, along with a love of cows (and therefore agriculture), is built into the summer. Over the years, we have hosted many kids from June through mid-August. However, it is the families of these kids that are our favorite part. As the summer progresses, we answer questions about animal care, the milking parlor, new baby calves, veterinary care, etc. Over a 4-H career, advocates for agriculture are built."
The pool of finalists will be asked to participate in an interview with a panel of judges and the finalist with the highest overall score will be named the winner of the award. The winner will be awarded a grand prize of either a Lely Astronaut A5 milking system or a recently re-launched Lely Vector automated feeding system.