For three generations of operators at Bellson Farms, a simple tie-stall barn has met the needs of the family and their herd.
But with Andrew Campbell taking on more responsibility as his parents transition away from full-time work at the farm, it was clear that its modernization was necessary. Now, Bellson Farms is just weeks away from transitioning its 65-head herd to a brand-new barn outfitted with the latest in Lely technology.
"We're definitely looking forward to move-in time," Andrew said.

Lely Robotic Milking Systems 'Just Work'
Andrew grew up on the Strathroy, Ontario, farm, giving him a thorough foundation in dairy. However, he and his wife temporarily left the operation for careers outside the agriculture industry.
The call of the family business ultimately proved too alluring.
"I was born into it," Andrew said. "We farm with my parents. They have milked cows there their whole career. They took over from my grandfather."
Andrew said the tie-stall barn "worked well for our family for several decades." But with his parents taking a reduced role, the workload began to mount.
"A lot of factors were leading up to the fact that we needed to make a change," Andrew said.
The Campbells researched several dairy automation options, but a front runner quickly emerged.
"We landed on Lely for a number of reasons," he said. "In talking to other producers who have Lely, there's a lot of people who are happy with the product, with the Lely Centers they deal with and the tech teams that support them."
One point came up over and over again.
"The line we heard a lot was, 'It just simply works,'" Andrew said. "'It does what it's supposed to do.'"
Cow health is also very important to the Campbells. Andrew said his research showed better health outcomes with Lely automation, and he looks forward to the data collected by the robots.
"It really is one of the most important things for us," said Andrew. "We're always focused on how can we do better for the cows?"
Room to Grow
June Dairy Month will be doubly special for the Campbells, as it will also mark the debut of their new milking barn. Lely techs are installing two Lely Astronaut A5 robotic milking systems, a Lely Juno automated feed pusher and a Lely Calm automatic calf feeder.
Andrew said he and his wife hope the automated barn will make it simpler for their two children – ages 10 and eight – to be more active participants in farm activities.
"We're looking forward to just being able to change our management style on the whole herd," he said.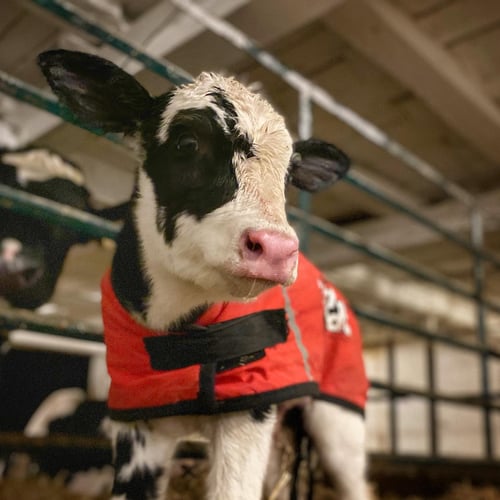 In a recent visit to Pella, Andrew and his family toured the new Lely Park Campus, which included seeing the building process of the Lely Astronaut robotic milking systems that will go on his farm. He chronicled his journey on his YouTube channel, Fresh Air Farmer.