We are delighted to share more about one of our 2019 scholarship winners, Robert Matson. Robert is currently pursuing his masters in Animal Bioscience at the University of Guelph, and received a Bachelor of Science degree in biochemistry with an option in synthetic biology from the University of Ottawa in the spring of 2018.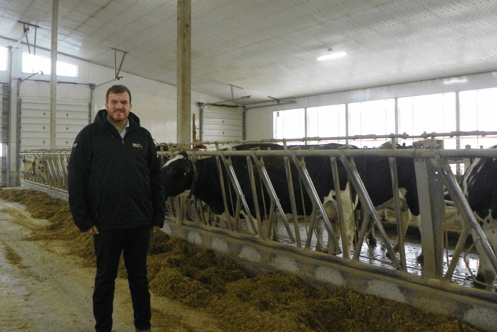 Robert grew up on his family's farm, Chesslawn Dairy, which was established by his great grandfather in Caledon, Ontario. For ten years, he acted as the assistant dairy herd manager, which required the milking, feeding and care of more than 60 Holsteins, as well as maintaining operating standards. Even though the dairy herd was dispersed in 2017, Robert still holds on to his roots in the dairy industry. Other activities Robert continues to be involved with on his family's farm include field preparation, planting and harvesting a variety of crops. He also has experience outside of the family farm as an agricultural research assistant in agronomy at Pioneer in Caledon, where he carried out field work to aid in the collection of canola research data.
4-H has also been a big part of Robert's life. He was involved as a member of the Peel 4-H program from 2007 to 2018, completing an impressive 54 total projects during that time. Now a 4-H leader, Robert exhibits great enthusiasm and humor when coordinating with 4-H members on a wide variety of projects. Robert is working with Ontario 4-H as a contract project writer for the "Introduction to Agricultural Biotechnology" project to help introduce the 4-H program into the Ontario Education Curriculum.
Even with his busy school and work schedules, Robert spends much of his time volunteering. He is currently the director of the Albion Bolton Agricultural Society and is a Scouter with Scouts Canada, which involves assisting with youth activities. Robert has also obtained the Gold level of the Duke of Edinburgh award and has since become a project leader to help more young individuals receive this award.
Masters Thesis on
Dairy Robotics at University of Guelph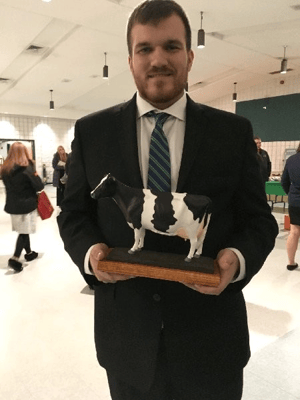 We were pleased to see that Robert's masters thesis focuses on dairy robotics. For this project, he is studying more than 200 automated farms from across Canada, already visiting operations in Ontario, Quebec, British Columbia and the Maritimes. He is also involved as a graduate student senator and has worked as a teaching assistant for two different agricultural courses, including a dairy nutrition class.
Robert's extensive knowledge of dairy robotics and the agricultural industry as a whole was very apparent in his submitted essay. One of his key points involved precision feeding.
"Robotics use precision feeding by addressing the problem at its source; optimizing the intake that an animal needs to maintain balance and production. All while minimizing the excess and waste of nutrients," Robert said. "The robotic solution to optimizing the feeding practices has been in the use of automated feeders and automated milking systems that can track animals and give appropriate feed amounts."
We were very impressed with Robert's application, and know he will have a bright future in the agriculture industry!