Dale Richter found himself at a bit of a crossroads in 2016.
The double-eight herringbone parlor at his farm, Richter Dairy in Highland, Illinois, was installed at the family farm in 1964, the year before Dale was born. But while Dale was too young to retire, the milking parlor was long past its prime.
So Dale and his two adult sons who work with him on the farm considered their options.
"Either we were going to build another barn with a new milking parlor, look into robots or just quit," said Dale. "We decided to go with the robots."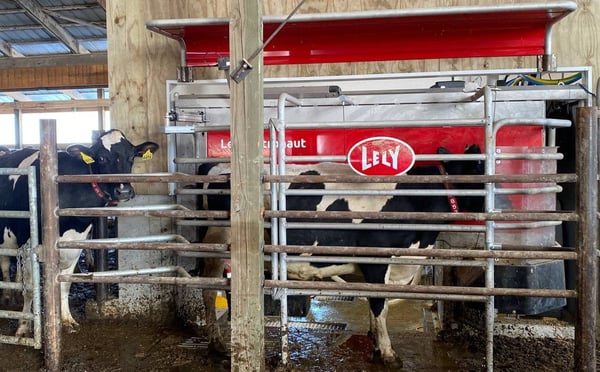 More Flexibility With Lely Robotic Milking Systems
Dale and his sons have a herd of about 100 cows and they also grain farm about 600 acres. But with the three Richters shouldering all of the work on the farm, time was pretty scarce.
The desire to streamline the workload ultimately led Dale to pursue robotic milking, and he chose Lely as his farm's partner. A pair of Lely Astronaut A4 robotic milking systems were installed and went online in 2016.
Once the cows got used to the new setup, the dynamics at Richter Dairy started to shift.
"With the robots, you manage the cows," said Dale. "The cows don't manage you like they do with the traditional barn."
Dale estimated that the addition of the two milking robots freed up four to six hours of labor at his farm per day. Suddenly it was possible for the Richter trio to take some time away from the farm on occasion.
"You're not tied down to the milking schedule six hours a day," Dale said. "I can get away from the farm for a week at a time now."
Of course, the machines don't eliminate the need for hard work. They just allow Dale and sons more time to focus on other aspects of the farm.
Lely Analytic Tools Help Farm Management
Dale said the data provided by the Lely robots is a huge part of their value.
"I think the biggest thing is just to analyze each cow separately every day," said Dale. "Better components and better quality of milk (is our priority) more than getting more product. You put more emphasis in your cattle where they need it."
Dale said his farm is set up to accommodate a third Lely robotic milking system in the future. However, there are no immediate plans to expand Richter Dairy.
"We're pretty happy with where we're at," Dale said.
Plus, they're pretty happy with Lely.
"It was definitely the right decision," he said.