More than a decade and 1 million milkings later, two of Michigan's first three dairy robots are still hard at work at Michigan State University's Pasture Dairy Center.
Part of the W.K. Kellogg Biological Station, a fully functioning university farm built from a donation from the cereal magnate, the dairy center has been home to a pair of Lely Astronaut A3 robotic milking systems since 2009. This July marks 13 years of continuous operation, according to farm manager Howard Straub III, a certified Lely FMS advisor. In that time, the machines have recorded more than 1.3 million milkings.
"What we asked them to do in 2009, they still do in 2022," said Straub. "At some point we're probably going to upgrade, but there's no pressure to do that right away."

A Chance to Learn with Lely automation
The farm has been a part of MSU since 1929. The Pasture Dairy Center was added to allow students and area farmers a chance to learn and study
advanced dairy techniques as well.
Two separate herds call the center home. Each herd, which typically numbers about 70 during the grazing season, has its own dedicated A3.
"We are now currently the oldest running robots in Michigan," said Straub. "We've done some automated milking research. We do a lot of environmental research. We host a lot of farmers who are thinking about using grazing and robotics."
Organic grazing is another major focus at the Pasture Dairy Center. The cows graze using an ABC system from April to early December, when the herd sizes are reduced slightly for confinement.
Straub said the unique setup allows the farm to conduct specific research on the joint impact of a mostly organic diet and robotic milking. The cows are allowed to use the robotic milkers on their schedule, without farmer input.
"Depending on the time of year and the growth of the grass, they'll get up to 85% of their nutrition down to pasture," said Straub. "We're always feeding pellets of course through the robots."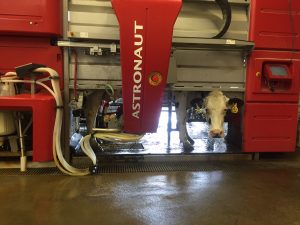 Milk produced at the center is sold through a co-op to Prairie Farms in Battle Creek "We're proud that our milk is produced and sold locally through our co-op," said Straub.
Flexibility with Lely Automation
Straub joined the Pasture Dairy Center in 2012, a few years after the robots were installed. He said Hi-Tech Dairy Supply, of Allendale, installed the robots and has been a constant source of support.
"We've had Hi-Tech the whole time," said Straub. "We always have great support. They've learned the system right along with us."
New Lely techs often train on the machines, giving them some experience with the older robotic milking systems that are still in use across the country.
While the robots provide ample learning opportunities for students and farmers, their presence serves a practical purpose as well. As a component of a public institution, the Pasture Dairy Center is run as efficiently as possible.