The Mormann family of New Vienna, Iowa, has been milking cows since 1983. Mormann Dairy, LLC has certainly grown and evolved since its original 40-cow herd and now milks 755 Holsteins with 12 Lely Astronaut A5 robotic milking systems.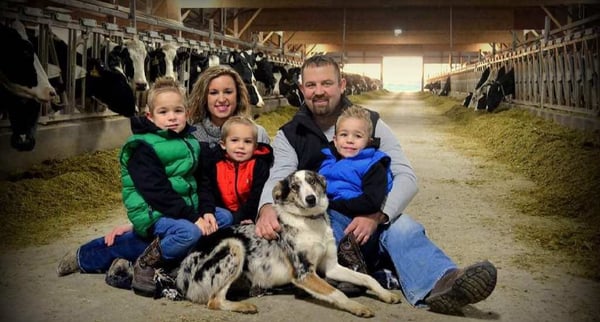 Robotic Milking Prioritizes Dairy Cow Comfort
Mormann Dairy, LLC is currently run by Glen Mormann, his wife Mikha and his parents Dan and Sandy. Glen and Mikha's three boys are also very involved. With an outdated double-14 parallel parlor and employees who were qualified to do more than just milk cows, the Mormann family knew it was time for a change. They wanted a new milking system that would prioritize cow comfort and give their employees the opportunity to utilize their cow management expertise to make the operation even more successful. Robotic milking was just what they were looking for.
"Probably the biggest decision maker when it came to robots was letting the cows be cows in the barn," said Glen. "We liked the free flow of the cows in a robot barn, where they're able to eat, drink, sleep and milk whenever they want."
With the help of their local Lely Center Precision Dairy Equipment, the Mormanns retrofitted their 12 Lely Astronaut A5s into two existing four-row barns.
"It was a bit of a workout, but the robot installation never affected the cow flow while we were still milking cows in the parlor," Glen said. "We pretrained the cows for four days before startup by having them go through and eat pellets in the robot after milking in the parlor."
They started milking with six robots in the first barn on November 10, 2020, and started up with the other six on December 20 of that same year.
"The first three months you don't get much sleep, but then all of a sudden it kind runs on its own. After the first year it's even better," said Glen. "Precision Dairy Equipment was there for the first week of startups and also helped us through the first year. They've been great help."
Ideal Sorting Capabilities with Robot Barn Designs
The operation's Lely Astronaut A5s are arranged in the large L configuration with a separation pen on the end which offers ideal sorting for vet checks, breeding and more. Since installation, the operation has seen improvements in production and is currently averaging 98 lbs per cow per day, 112 Energy Correct Milk, 4.3% fat, 3.3% protein and 70,000 somatic cell count.
The dairy's team also uses the data provided by the robots to help make decisions.
"We look at the software daily to help us make dry out or cull decisions and see connectivity, SCC and everything that we need to focus on with each specific cow," Glen said.
Mormann Dairy, LLC also utilizes a Lely Cosmix concentrate feeder, which has proven to be an effective method for training heifers for robotic milking. It allows the cow to get used to being in a box-like setting and that she will be rewarded with a concentrate when she enters the box, similar to the Lely Astronaut A5.
Lely Robots Reduce Labor and Wear on Other Equipment
The operation also has two Lely Juno automatic feed pushers which have eliminated labor requirements for feed pushing and reduced wear and tear on other equipment.
"In my mind, the Junos are keeping a lot of hours off of our skid loaders. Equipment prices are crazy right now," Glen said. "As long as a Juno is going around, we don't need an employee on the skid loader putting hours on that piece of equipment."
With Lely automation, Mormann Dairy, LLC now has seven fewer employees than it did prior to robots and the team can leave the facility for awhile without worrying about people being there to keep things running. There is also more variety in the team's day.
"We don't have to focus on just milking cows. We can focus on robot maintenance, putting sand in stalls, vaccinations and other things versus just one thing," said Glen.
The Mormanns have also noticed a big difference in their cows after the transition to robots. The herd is very happy with the barn and they are much calmer.
"I believe the longevity of the cow is where we're going to see the biggest improvement because of robots," Glen said.
The team at Lely North America is excited to see success like this on a large automated facility and can't wait to see more from this dairy!