Lely North America is proud to share the story of one of our five scholarship winners, Lynn Olthof, of Michigan State University. She is currently pursuing her bachelor's in Agribusiness Management, and she also graduated from the Institute of Agricultural Technology with a Dairy Management certification in 2018.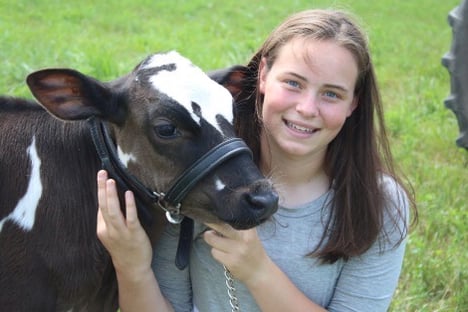 Lynn grew up on her grandparents' 60-cow pasture dairy in West Michigan and understands that there are always opportunities to improve in the industry. Lynn was very involved during her time in high school, from athletics to academic organizations. She was the Grand Haven high school varsity basketball team captain for two years and served on the National Honors Society leadership team. She was also an active member in her local agricultural clubs, having been an FFA Chapter Officer and part of the Muskegon County 4-H for 13 years. Lynn continues to be involved while in college and is currently the vice president of the MSU Dairy Club.
Lynn's resume includes multiple internships in the ag industry. Last summer, she interned with Nutrien Ag Solutions in West Olive, Michigan, where she gained knowledge in soil and crop sampling, scouted crop fields for disease and attended seed conferences. In the summer of 2018, she worked at the William H. Miner Research Institute in Chazy, New York, where she performed a variety of tasks in dairy operation management.
Dairy Industry Experience
"This internship gave me the chance to experience the dairy industry in a different region of the country and build valuable connections with members within the industry. It opened my eyes to the endless opportunities within the dairy industry which I continue to uncover today. I believe that my biggest takeaway from this internship was that the dairy industry is more than a job, it is a family."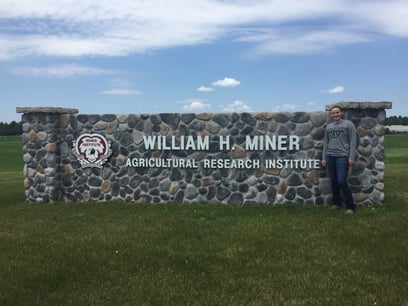 Lynn believes that dairy producers who actively strive for improvement and are flexible to change are the ones that will pull through in the industry. Her firsthand experience and knowledge of the dairy industry was clear in her essay, and she was able to give well supported reasons.
"Through the use of robotic systems, dairies have the opportunity to decrease labor expenses while increasing milk production, resulting in an increased net profit. Especially in today's dairy industry, producers always get excited when they are able to cut costs or increase their revenue. With this savings and increased revenue, farms are able to invest in other areas of the dairy, such as adding additional cows or expanding a barn. In the long-term, robotic systems open up many opportunities for the dairy in the future."
Lynn says she will continue to serve the dairy industry and would like to take over her grandparents' farm someday. She gives her parents and grandparents credit for cultivating her passion for the dairy industry and is grateful to have received this scholarship to support her education. Thank you for a fantastic submission, Lynn, and congratulations on winning the scholarship!