Lely North America is proud to announce that Kasey Hudson of Baker's Golden Dairy in Ohio and Emily den Haan of Haanview Farms in Ontario have been named as two of the four finalists in The Way to Dairy Award.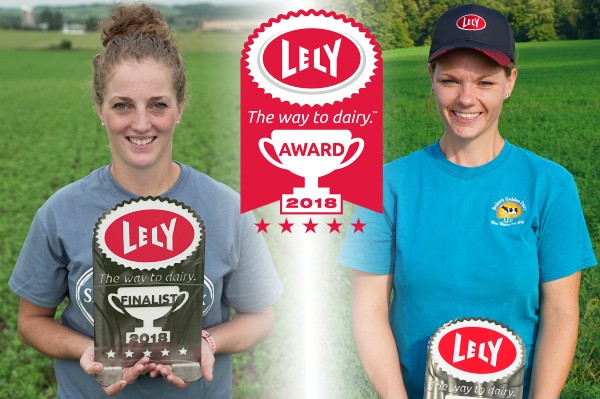 Lely North America announced the award earlier this year as a way to recognize the most progressive dairy operations who want to maximize each cow's potential, while changing the daily tasks on the dairy to be more sustainable, profitable and enjoyable. This top honor will be awarded to the dairy farmer who best demonstrates and lives by the standards of using sustainability and innovation while being an animal care advocate and is involved in the dairy industry. Applications were accepted until June 30.
Two more finalists will be announced at The World Dairy Expo next month. The grand prize winner will be chosen by a panel of judges and will receive their choice of either a new Lely Astronaut A5 milking system or a recently re-launched Vector feeding system.
Hudson and den Haan are both involved in thriving family dairy operations that have goals to expand the dairy operations.
In the submitted essay, den Haan wrote that she knows that innovation is critical to being a successful farming enterprise. "In 2012, we opened the first on-farm dairy in Ontario to process and market fluid milk. As we look at the future of our dairy our new barn will be able to accommodate the production of A2A2 milk to the Canadian market through our on-farm plant, Sheldon Creek Dairy. A2A2 milk is cow's milk that contains only the A2A2 beta-casein protein. It is suggested that it is easier to digest for people who typically experience discomfort with milk," she wrote. Their operation is currently building a new robotic milking barn, moving from a 50-cow tie-stall barn to a 120-cow free-stall.
"Lely wants to give the best farmer the best automation on the market, supported by their local Lely Center. Lely Centers span the U.S. and Canada from Quebec to Kentucky across the plains to California and into western Canada to serve dairy farmers across North America," states Chad Huyser, Vice President Lely North America.