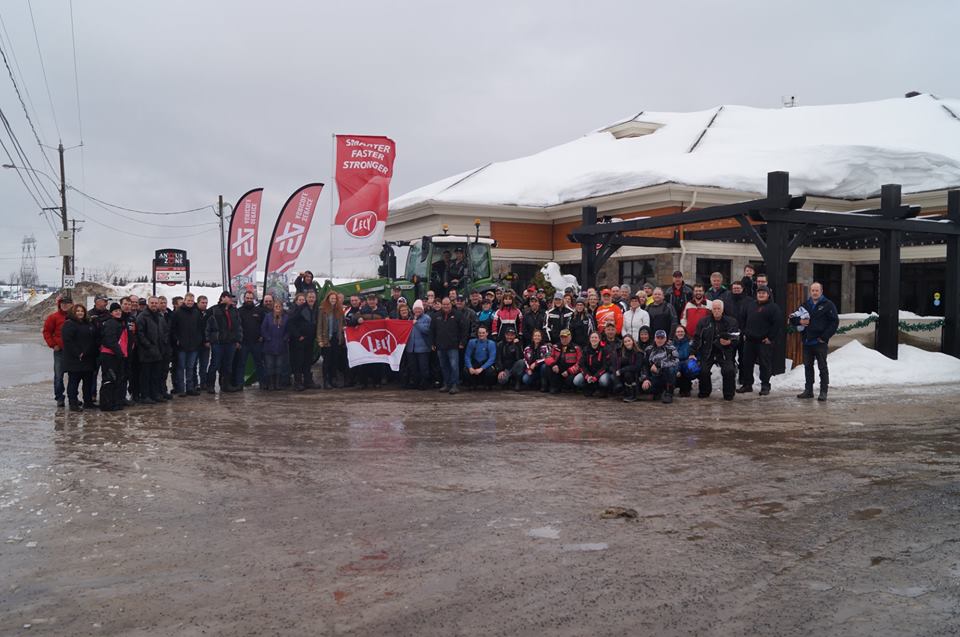 With ice and snow storms covering much of North America, it can be hard to break out of the winter blues. 170 visitors to Saint-Agaspit, Quebec didn't let a little cold weather, rain or ice stop them from enjoying their day riding snowmobiles for the fifth annual Lely Ski-Doo Day.
Organizer Marco Cloutier, a dairy farmer in Sainte-Marie-de-Beauce, first created the event to celebrate his recently finished barn, complete with state-of-the-art Lely milking robots. He decided to bring together fellow Lely robot owners to indulge in his favorite pastime of riding snowmobiles, followed by dinner.
Cloutier hosted 40 participants the first year, and each year the number of eager participants has grown as word-of-mouth spread across many regions in Quebec. Now the Lely Ski-Doo Day is seen as a way for fellow producers to get out of the barn and have some fun. The event is open to all farm producers and stakeholders. Sponsors have helped make the day even more fun with more than 150 participation prizes given out, valued at nearly $6,000.
It's historically been difficult for dairy producers to spend a day away from their operation. Taking care of their cows always comes before going out for a day of fun. The automation of routine tasks like milking and feeding provided by Lely products makes days like Cloutier's Ski-Doo Day possible. Lely strives to provide solutions for those every day tasks with robots like the Lely Astronaut A5 automatic milking system, the Lely Vector automatic feed pusher, the Lely Juno automatic feed pusher and more!
With the popularity of the event, next year's date has already been set for February 4, 2020 at Mount Orignal, Quebec.