Lely North America launched its scholarship program in the fall of 2016 in an effort to give back to the dairy community and support the education of future leaders in the dairy industry. Since its inception, this program has provided $25,000 in scholarships. This year, the company is changing the program's requirements with the intention of giving students the opportunity to connect with and learn from local dairy automation experts.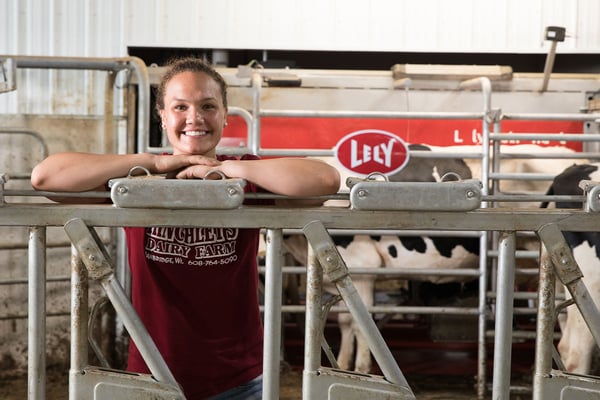 For the 2020 Future of Dairy Scholarship program, Lely North America is excited to be awarding $1,500 scholarships to three outstanding individuals who are studying for careers in the dairy industry. This year, applicants will also have the chance to meet with their local Lely Center representative and learn more about the different roles and responsibilities in the dairy robotics industry. This can be done virtually, via phone conversation or face-to-face. After this conversation, the Lely Center representative will then submit the required form of endorsement for the applicant. Read below to view the other application requirements for the scholarship program.
Application Requirements
To apply for the scholarship, students must be at least 18 years of age, enrolled at an accredited institution of higher education for the 2021 academic year and participating in a program that can equip them to contribute to the dairy industry. Students must also be current or former members of the 4-H or FFA organizations.
Entry requirements ask that students interested in applying submit the following items with their application:
An essay response to the following question (500 – 700 words): "What do you think will be the key to success in the dairy industry in the next ten years?"
A 1- or 2-page personal resume depicting previous leadership/organizational involvement.
A letter of recommendation from their 4-H or FFA advisor/leader/youth coordinator.
A letter of recommendation from an academic advisor.

A form of endorsement completed by the student's local Lely Center representative. Applicants can find their local Lely Center on our website. If the student does not have a Lely Center in their state/province, Lely North America will provide the name of the nearest Lely Center.
Each scholarship winner will also be awarded with the opportunity to job shadow a person of their choice at their local Lely Center. Lely North America is excited to give the next generation of dairy enthusiasts the chance to learn more about the innovative technology behind dairy automation from our network of Lely specialists!
How to Apply
Are you or is someone you know interested in applying? Click below to view the official rules and/or apply:
The deadline for submissions is October 31, 2020, at 11:59 p.m. and winners will be notified on or before December 7, 2020.