Visionary and top notch speakers were on the menu for the 2019 Farm Management Conference, and Lely North America's Farm Management Support (FMS) team worked hard to bring the best of the best. With the mission: "Continue to grow and optimize the operation of your dairy customers," the conference was a chance for Lely Center staff to come together to learn, share and collaborate with Lely robot dairy advisors.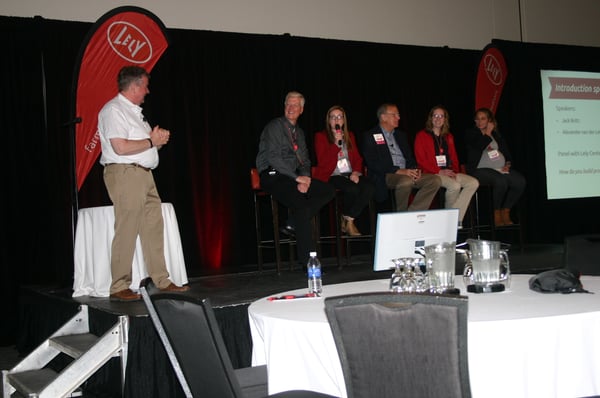 Lely North America hosted more than 125 guests at the Conference — which included FMS certified advisors from Lely Centers, external advisors, and Lely robot owners — all participating in discussion panels and hearing from industry-related speakers. Taking place in Ottawa, Ontario Canada, the event kicked off with two diverse forward-thinkers and visionaries in Jack Britt, Professional Emeritus and entrepreneurial scientist, and Alexander van der Lely, CEO Lely.
Attendees heard from a wide array of expertise throughout the three day conference, which included subject matter experts from VAS - Valley Ag Software, Grande Cheese, the National Milk Producers Federation, Zoetis Animal Health, Commodity Risk Management and more. Current Lely Vector automatic feeding system and Lely Astronaut robotic milking system owners shared their perspectives during several panel discussions.
"Conferences like this are essential for advisors to not only have the opportunity to learn about industry topics, but to network with fellow advisors and industry representatives," said Leah Lange, Sales and Farm Management Support at Fitzgerald, Inc.. "In the dairy industry we need to be a team, and the more players on your team the more versatile you can be."
Lely Center Dundas Agri Systems hosted the guests at two Lely farms near Ottawa that are currently harvesting milk and feeding cows with the Lely Vector automatic milking system and Lely Astronaut A5 robotic milking systems. Representatives of the following sponsors included Forster Technik, Atlas Copco, Nedap, Allflex and Ecolab were all available to answer questions and interact with Lely Center employees. In his capstone speech, Andre van Troost, VP of Customer Care at Lely, discussed why and how Lely should act in a customer-centric way and always provide best-in-class services.
"Visiting with fellow advisors challenges each of us to do better for our customers but also encourages us to reach new goals and strive to be the best advisors we can be," said Lange.