The value of a small, family-run dairy has been impressed upon Kathleen Scott from the very moment she was born.
Raised on a dairy operation north of Waverly, Iowa, Kathleen represents the third generation of dairy producers in her family. She grew up around cows, learning the ropes alongside her three brothers.
The science behind life on a dairy farm was particularly fascinating to Kathleen, who ultimately studied genetics and dairy science at Iowa State University. So when it came time to start a family of her own, Scott knew exactly what she wanted to do.
"After my husband and I married, we decided we wanted to farm," she said.
Lely Robotic Milking Adds Exciting Twist to Dairy
Kathleen and her family now own and operate a dairy farm in Westgate, Iowa. They use two Lely Astronaut A4 robotic milking systems to collect milk from 120 to 130 cows.
The robots, added in 2016, have transformed the way the Scott family works on the farm, providing more data and consistency to operations. However, the family still milks about 30 cows in a tie-stall barn.
"It keeps the teenagers busy and gives the kids some hands-on experience," said Kathleen.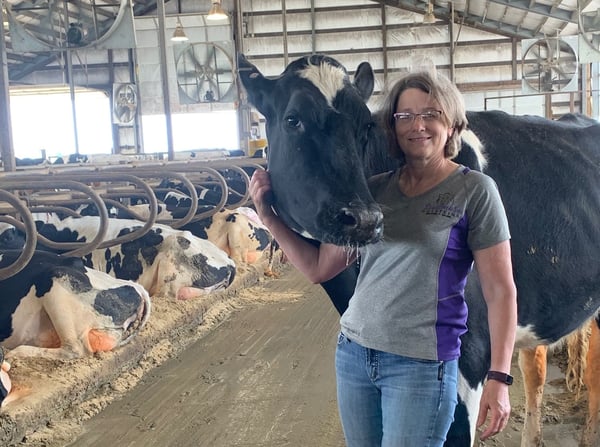 Kathleen's husband handles maintenance and operations, while she takes the lead on breeding and cow health.
Without any hired labor, Kathleen and her family still have plenty to do at the farm. However, Lely's robotic milking systems and the bevy of data points they can provide have changed the game for the Scott family.
"It still requires a lot of labor," she said. "But the labor is easier and you know more about your cows. I can still put in a long morning, but it's occasionally easier physically, more flexible."
Lely Automation Allows Broad Focus
Kathleen and her husband began their farming journey by working with her parents. Eventually they rented a dairy farm north of her hometown in Waverly, where they milked in a tie-stall barn for seven years.
That's when they found a tie-stall dairy operation for sale in Westgate, Iowa. They had found their own piece of land upon which they would raise eight kids, immersing them in the world of dairy.
But eventually, the family reached a crossroads.
"There came a point where we needed to generate more income and cash flow, but we were not going to expand the tie-stall barn," said Kathleen. "It came down to whether we wanted to put in a parlor, do robots or get out of the dairy industry."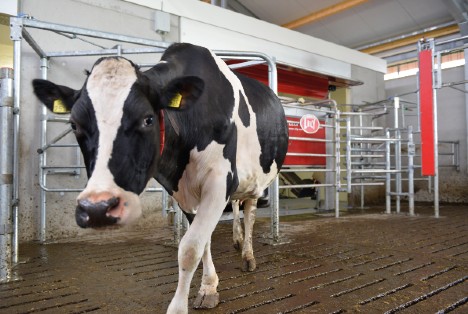 Kathleen and Mike's research led her to believe robotic milking was the way to go and that Lely offered the best products to support that endeavor.
"I was extremely impressed with the calmness and tranquility of the cows in the robot barns," said Kathleen. "I thought, 'That's what our cows need.'"
The addition of the Lely robots also presented an opportunity for Kathleen to further explore the scientific aspects of dairy farming.
"Some of my challenges have been trying to breed cows that are a bit more suited to the robots," she said. "I know a lot about our cows and their strengths and weaknesses. I thought, 'How can I adjust my approach to breeding cattle to address this specific issue?'"
The Future of a Family Farm
When Kathleen and her husband decided to take the plunge into full-time dairy farming, she made sure the success of the operation was her primary focus.
"I always wanted to be involved with the dairy cows because I didn't want to have an off-farm job," she said. "I wanted to have enough work on the dairy to not have an off-farm job. The robots have allowed me to have an even more impactful role."
The farm has changed significantly since it was purchased by the Scotts, but it has always been and will always be a family operation, according to Kathleen.
"Our goal was to stay a family farm and not get so big to rely on hired help," she said. "Our next move would be to diversify our operation, rather than expand. Hopefully we can find some direction in which to diversify in the next five years."
Kathleen's Lely Center, Precision Dairy Equipment, of Elkader, Iowa, recently featured her on the company's Facebook page.
"(Kathleen) works hard to ensure the chores get done, but also makes time to coach the county 4-H judging and quiz bowl teams," company officials wrote in the post. "She also enjoys raising her kids on the farm and watching them participate in both 4-H and junior Holstein shows and activities."
Lely North America is grateful to have passionate dairy producers like Kathleen as part of the Lely community. Throughout June Dairy Month, we will be celebrating #womenindairy Wednesdays that feature women like Kathleen who are involved with Lely farms and their community. Stay tuned for more to come and join our social media celebration by posting about the dairy women in your community throughout the month!