Emily den Haan's parents weren't opposed to having their adult children return home and become partners in the family dairy business.
They just had one pre-requisite: Emily and her siblings needed to spend five years out in the world first, exploring all their options before taking the dive.
So when Emily landed her first post-college job in agriculture finance, she was prepared for at least half a decade of service. But, thanks to an unexpected opportunity, it lasted all of four months.
"The farm across the road from our family dairy was put on the market," said Emily. "So I bought the farm across the road."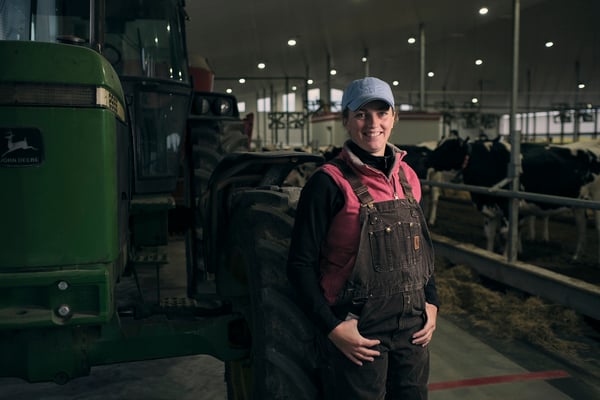 Six years later and it's clear Emily made the right call. She now manages a burgeoning robotic dairy operation, just one part of a multi-faceted family business.
"Since I was in high school, I always knew that I was going to come home to farm," she said. "I loved the whole aspect of the diversity of different jobs you can do. I can be on the tractor one day, and the next day, it's animal health. The next day I'm an economist or a banker."
'No Question' About Lely Robotic Milking
In 2018, Emily oversaw the completion of a new barn built for up to 120 cows. The new barn features two Lely Astronaut A4 robotic milking systems, which are currently used to milk 65 to 70 cows.
"We decided to invest big and build a new barn and put in the robots," Emily said. "To us, there was no question about adding the robots. We've never looked back."
The robots provide innumerable benefits, not the least of which is increased data to help ensure a healthy herd. But there are plenty of more direct upsides as well.
For example, the location of the farm -- Simcoe County, Ontario, not too far from Toronto -- puts it at a labor disadvantage. Fewer skilled farm workers are available, and those who are tend to be quickly snatched up by competing dairies.
"We have a lot of competition in the workforce, and not a lot of people around here who grew up around farms and knew how to work with animals," said Emily. "Where we're located, finding help and finding workers is really hard."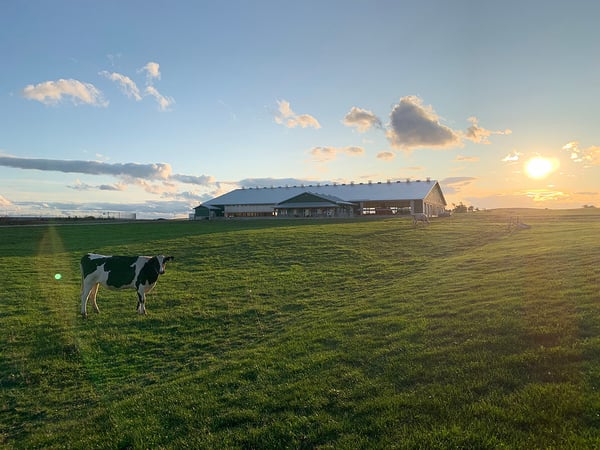 In addition to family members, Emily's dairy operation employs two full-time workers and a student who helps out part time. Emily's sister and her husband have helped develop and launch a dairy processing business called Sheldon Creek Dairy, and the family farms about 500 acres, most of which goes into feed.
The next few years will be focused on "honing in" on and improving existing aspects of the business, a process made possible through Lely automation.
"We're really focused on getting our production, feed quality and everything honed in and running smoothly," Emily said.
Lely Agricultural Machinery Provides Myriad Benefits
The increased labor efficiencies were a huge win, but other benefits of Lely robots were immediately apparent. Cow longevity has improved noticeably and production has increased.
"It's been a huge help in our growth -- not only growth as far as production, but growth in efficiency and growth in quality," Emily said.
While robotic milking equipment won't eliminate the need for hands-on farm labor, it does help make it easier to manage.
"I am able to spend a lot more time on animal health things and on the cows that need help rather than on labor-intensive things, such as milking, which we did in a tie-stall barn," she said.
More recently, Emily and her family installed a Lely Calm automatic calf feeder.
"I'm just shocked at how much more free time we have from it," she said. "The calves are doing just tremendously."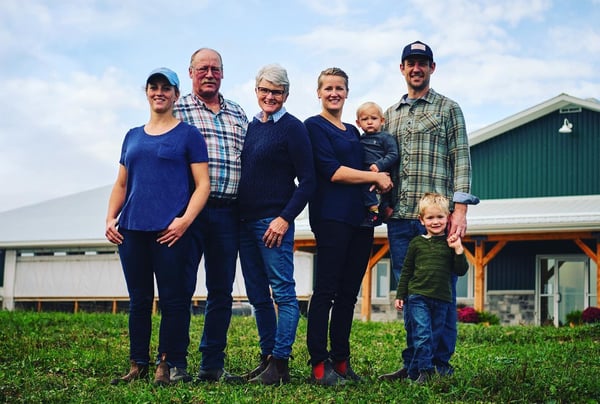 Lely Center Grand River Robotics, of Fergus, Ontario, provides the den Haan family with the service and products they need to operate their robotic dairy. Company officials said they are dedicated to helping dairy producers maximize their opportunity for success.
"We are driven to assist our existing and future customers with timely service, advice and solutions," said Henry Hutton of Grand River Robotics. "We are grateful for the customer base we have today and are excited to develop more relationships with dairy producers in the future."
We've certainly enjoyed celebrating #womenindairy Wednesdays throughout June Dairy Month and are proud to have passionate dairy producers like Emily as part of the Lely family!