With Bob Venhaus' final son about to graduate from college, the future was a little uncertain for the lifelong farmer's Illinois dairy.
His children had pursued careers away from the family farm, and his wife also worked full-time elsewhere. So it largely was up to Bob to complete the chores on the farm, including milking about 60 dairy cows in a double-four herringbone parlor system.
A second-generation dairy farmer, Bob was born into farm life. But he eventually realized that his workload as the largely sole operator was unsustainable.
So Bob called up Arentsen Farm Sales and Service, his certified Lely Center, for some advice.
"I'd seen these things around," Bob said. "I went to look at them through Arentsen. I was impressed with them and thought they could help me free up some time."
A 'Dramatic' Change with Lely Automatic Milking
Bob Venhaus has been the owner of a single Lely Astronaut A4 robotic milking system since July 2013. Prior to that, Bob had been milking cows by hand.
The switch had an immediate impact on the operation.
"It's a dramatic change," Bob said.
With his wife working full-time as a nurse, nearly all of Bob's time was dedicated to keeping the farm running smoothly. With only a few part-time seasonal employees available, that didn't allow for a lot of time off.
"We virtually went nowhere," said Bob. "One weekend a year I got a neighbor to milk or something."
The Lely Astronaut A4 didn't eliminate Bob's workload on the farm, but it did allow for a far greater degree of flexibility.
"Now we probably take half a dozen or so weekends off a year," said Bob.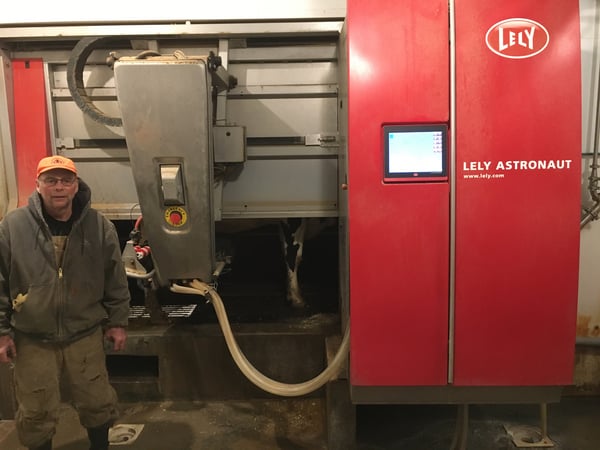 Lely Robotics Improve Efficiency
Bob's cows quickly adapted to the robotic milking system. The results have been impressive.
"Production is much better," he said.
Bob said he has no plans to expand his farm, and is happy with his current level of production. But with Lely robotic milking systems, he is able to do much more with less.
"I can monitor milk production with my phone," he said.