Lely North America is excited to launch the Used Lely robot website, providing dairy producers a premium platform to find high-quality, pre-owned Lely equipment.
Used Lely Robots For Sale
Originating in the Netherlands where Lely International's headquarters is located, the Used Lely robot site is now being utilized worldwide in 12 different countries. Click below to view current listings:
"We're pleased to give dairy producers access to this platform. From this single website, they can find quality used Lely equipment to upgrade their milking system or to expand at a lower price point than new," said Ben Guelker, Product Manager: Milking and Cooling, Lely North America. "It's another resource for farmers to learn about Lely and engage with Lely Centers."
The North American market has been buying new Lely robots for years. During that time, some farmers have chosen to sell their older milking robots and upgrade to newer. Unfortunately, there hasn't been a single source platform for their Lely Centers to post that used dairy machinery for them. Used Lely robots have been available on a variety of platforms that may not have been intended for selling used dairy automation equipment.
Now Lely Centers throughout the country can post used Lely machinery on a single location. Current Lely customers as well as those interested in adopting Lely automation can come to this site. They can find deals on used equipment and get connected with their Lely Center. Today, roughly half of used Lely milking robots go to dairy producers that are new to robotic milking.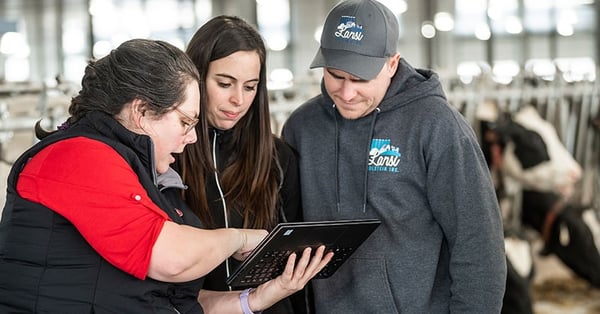 Full Line of Robotic Farming Solutions
Unlike other used equipment sites, the used Lely robot website offers dairy producers the opportunity to easily gather and request further information by connecting them with their local Lely Center. It also offers buyers the opportunity to get the full Lely automation package, from robotic milking to feeding to barn products.
Here's how the listing/trade-in process works:

*The Lely Center can update or upgrade pre-owned equipment that is being purchased or sell it as is. Today, there are several pre-owned Lely Astronaut robotic milking systems available, with anticipated Lely Discovery 90 S/SW mobile barn cleaners and Lely Juno automatic feed pushers coming soon. Financing options for used Lely equipment are available through Lely Finance.
Interested in listing, expanding or upgrading with the Used Lely robot website? Be sure to check out our selection of pre-owned Lely solutions and contact your local Lely Center today!
*If you are purchasing a Lely product, outside of your local country/from another continent, contact your local Lely Center for guidance on the proper equipment specifications to meet requirements in your territory. Additional costs may apply depending on choices made. For example: Costs for transport, refurbishment and project installation.