Twin Mill Brook Farms LLC of Central Square, New York, is a family-owned business that is run by an innovative staff of all women. Many of these dairywomen come from non-farming backgrounds, but their teamwork, belief in technological advancements and Lely Center support have made this dairy succeed with the help of Lely robots.
Dairy Farming as a Family
Founded in 1849 by their grandfather, Twin Mill Brook Farms is now run by the sister duo of Trista VanDuzer and Melissa Booth, who took over after their brother and parents chose different directions. Clever businesswoman Melissa returned to the family farm in 2018, and then persuaded Trista to do the same a year later. Trista had previously worked in various technological roles, including the technology project manager for a local county-wide system. Needless to say, moving back to the farm was a complete career change for her.
"I had to put my high heals and dresses in a box and buy myself a pair of work boots," Trista said.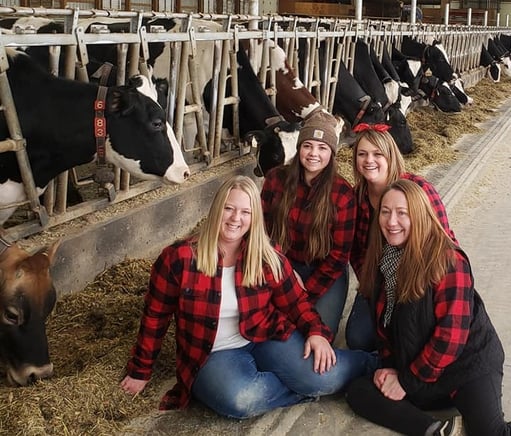 After shutting down the dairy barn in the 1980's, the family had decided to get back into dairy farming about ten years ago with the original tie stall facility. Knowing they needed to upgrade to a new way of milking to remain sustainable, the team decided to look into dairy robotics.
Turning to Lely Robotics for Future Sustainability
After touring a number of different dairy operations, the apparent success of Lely robots coupled with the good service of their local Lely Center are what drove the team's decision to invest in Lely solutions. Working closely with Finger Lakes Dairy Services, Inc. during the planning process, Twin Mill Brook Farms finished building its new, state-of-the-art facility at the beginning of 2018. The new barn now houses 110 milking cows that are milked by two Lely Astronaut A4 robotic milking systems. The operation also has a Lely Vector automatic feeding system that feeds the entire herd of 230 cows round the clock, and has proven to increase milk production. The barn consists of one pen with the robots configured in a small L-shaped design.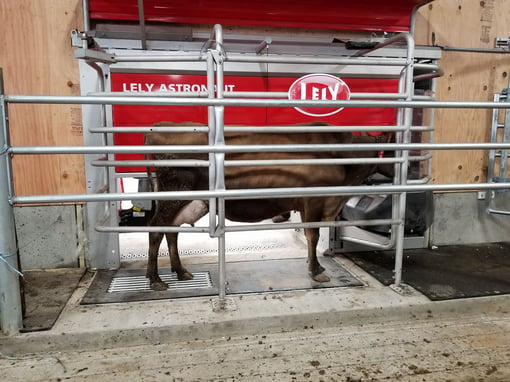 A year ago, the operation had an evolution of staff, leading to Trista and Melissa inadvertently hiring all women, many of whom had never worked on a farm. However, these women all have one goal in mind: cow care. Each team member learned very quickly and found their niche, allowing the group to collaborate extremely well together. The dairy is now maintained by one full-time and four part-time workers. Trista and Melissa's daughters are also dairy enthusiasts who are pursuing ag degrees, as well as aid in feeding the calves and fine-tuning the operation's feeding and cow care strategies.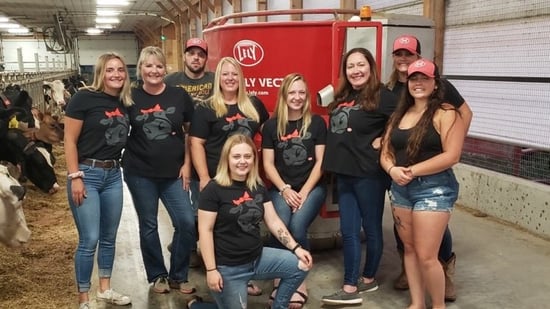 Lely Robots and Lely Center Service Enhance Dairy Operation
The Finger Lakes Dairy Services, Inc. has been a key resource for Twin Mill Brook Farms. Members of the Lely Center's staff were there for the first several days of startup to allow for an organized transition, and continue to support the dairywomen today. The Lely Center's technicians and Farm Management Support (FMS) advisor have been willing to think outside the box and creatively come up with a herd management strategy that was specifically designed for the ladies of Twin Mill Brook Farms. When Trista initially returned to the farm, their FMS advisor would come out every few weeks and spend full days helping her understand which of the robots' reports and trends to assess. This understanding of each individual cows' data has proven to be a critical factor to the dairy's overall success.
Lely robots have proven to be an essential part of Twin Mill Brook Farms. Dairy automation has made milking and feeding the cows easier on the staff with reduced labor requirements. Lely equipment has also given the team more flexibility to focus on other activities rather than being tied down to one certain task. Lely robots have also supported Twin Mill Brook Farms' prioritization of cow care. The farm frequently has visitors, many of whom comment on how happy the cows look. The herd's quiet demeanor came as a surprise to Trista, because their family used to raise beef cattle, who always made some sort of sound. Their cows are so silent and calm, Trista installed speakers so she could play music to stay sane.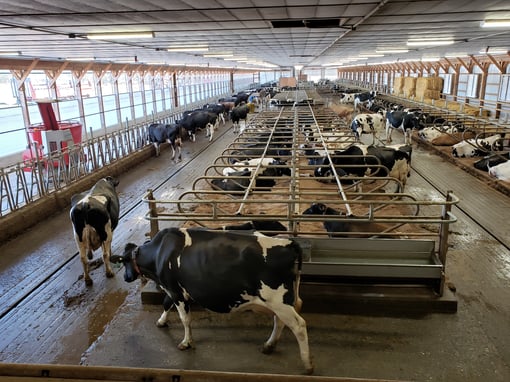 Overall, the Twin Mill Brook Farms team is excited about their success with Lely robotics, and will continue to utilize advanced technology to support its operation. Lely North America is proud to have this team of innovative dairywomen as part of the Lely family!
Now is the Time to Invest in Lely Robots!
Interested in dairy robotics? Lely is excited to be celebrating the installation of North America's 5,000th Lely Astronaut with a limited-time offer that you won't want to miss! We are offering you the opportunity to receive a $5,000 manufacturer discount on each Lely Astronaut A5 robotic milking system and Lely Vector automatic feeding system you purchase. Click below to claim your $5,000 voucher: