Trehane Holsteins of Niverville, Manitoba, Canada, is celebrating its tenth anniversary with Lely automation this year.
All In with Lely Robots
The Stephens family emigrated from England in 1994, and the dairy has certainly seen considerable changes since its original 35-cow tiestall barn. In late 2010, the family was faced with a big decision — replace their main herdsman or go robotic. David and Liz Stephens turned to their sons, and Jake and his brothers were set on making the switch from their 10-year-old parlor system to Lely robotic milking.
"My parents asked us what we wanted, and we said robots," Jake said.

In 2011, two Lely Astronaut A3 Next robotic milking systems were retrofitted into the existing freestall barn at Trehane Holsteins. The Stephens' local Lely Center, Penner Farm Services, was there every step of the way to assist with the transition. Within a month of startup, the herd's daily average production per cow per day increased by nearly 16 lbs (8 L).
Robotic Feeding Positively Impacts Cow Health
But the Stephens family didn't just stop at robotic milking on their farm. In 2014, they installed the Lely Vector automatic feeding system with one mixing and feeding robot (MFR) and kitchen with feed grabber. The farm now feed all cows over the age of six months with the system. Having consistent feed at the fence with automated feeding led to a 0.15-0.25% increase in the herd's average fat. Today, the herd's average production per cow per day is up to 106 lbs (48 L).
The Lely Vector MFR route at Trehane Holsteins is 1,200 feet long roundtrip with lots of turns, and the robot is able to handle it with ease. The robot even has to travel 45 feet outside between barns.
The Stephens also noticed a big difference in their reproduction, with an 5-10% increase in the operation's average conception rate on first-time heifers after starting the Lely Vector. Cow growth also improved significantly with the automatic feeding system, making it easier to breed heifers at 13 months old.
"With breeding-age heifers, it's much easier to breed them at 13 months. Growth is so much better with the Vector with a higher conception rate," Jake said.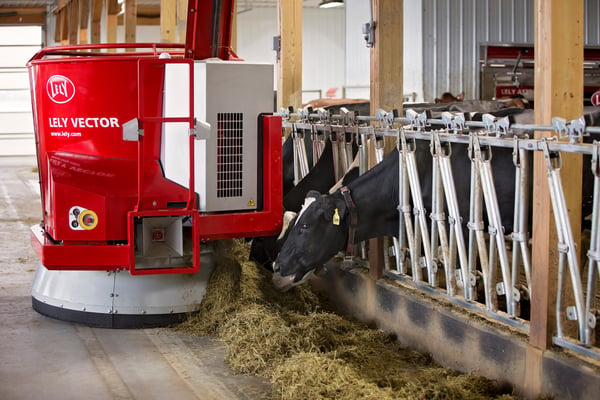 Lely Vector Saves Time and Money
Before the Lely Vector, the team was spending three hours per day mixing feed, and now spends only one daily hour on feeding. The dairy previously required two full-time employees, and now only needs one because of the Lely Vector. With their previous TMR mixer, the Stephens had three loader tractors as backup just in case one had issues. Since switching to the Lely Vector, the Stephens sold two of their tractors and now use their remaining loader tractor significantly less, saving on fuel and wear on that equipment.
When taking into consideration their savings in fuel, feed waste and more, Jake estimates that his farm's cost savings average $100,000-$150,000 per year after installing the Lely Vector. They save an estimated average of 5,200-6,600 gallons (20,000-25,000 L) of fuel per year as well.
The Stephens installed a Lely Astronaut A4 in 2017, then chose to expand the following year with another milking robot and a second MFR. They now milk 200 cows with four Lely robotic milkers. These startups were considerably smoother due to the fact that the majority of the herd was already robot-trained and because of the Lely Astronaut A4's I-flow cow flow. The I-flow concept (pictured below) of the newer Lely Astronaut A4 and A5 models gives cows a straight path in and out of the robot, which makes the milking experience more comfortable for the cow overall.
"If anyone complains about startup with the A4 and A5, I think it's funny. The I-flow makes it so simple," Jake said.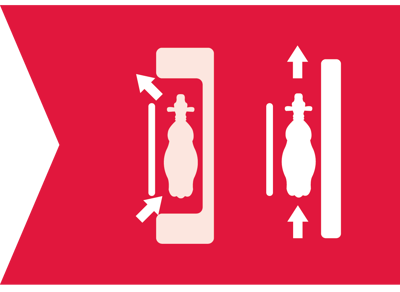 The Stephens family also utilizes the Lely Calm automatic calf feeder for improved calf health monitoring and growth.
Overall, the Stephens family is pleased with how Lely automation has impacted their team's overall flexibility and herd health.
"The Vector does a really good job with cow health. With constant fresh feed, they seem to be healthier and easier to get pregnant," Jake said.
Interested in hearing more from Jake about automated feeding? Click below to register for our Lely Vector Roundtable webinar that features a panel of farmers that have first-hand experience with Lely automatic feeding!