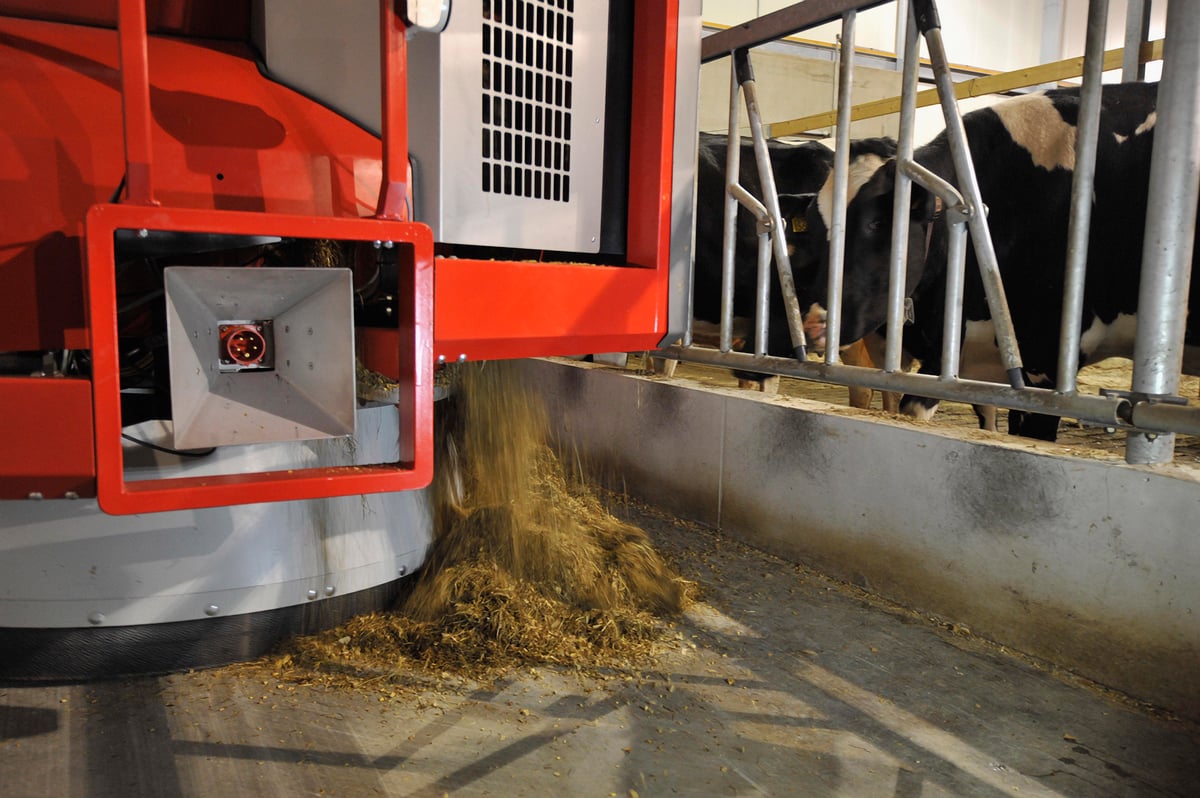 The Lely Vector automatic feeding system combines what we know about smart feeding with our dedication to creating a system that focuses on optimal animal health and has low operating costs. Ensuring your cattle never have too much or too little feed, the Lely Vector provides them with fresh nutrients throughout the day.
Mitch Malm is the owner of Malm's Rolling Acres, a crop and livestock farm in Wisconsin. He and his son Max implemented the Lely Vector system in December of 2017 to feed their 150 milk cows and 150 steers. Already owning Lely products such as the Lely Astronaut robotic milking system, Lely Calm automatic calf feeder and Lely Juno automatic feed pusher, the Lely Vector was a welcome addition to the barn as they increased their feeding from once per day to 10 times per day.
The availability of fresh feed all day long displays its benefits clearly with first lactation heifers or timid cattle. With higher-ranking cows less likely to sort feed because of the constant and fresh availability, lower-ranking cattle are given the opportunity to come up and eat. This leads to an overall improved herd health, a fact the Malms can attest to as they saw their herd health bill get cut in half since the implementation of the Lely Vector.
"For us, it was our herd health that was the biggest thing we noticed about the Vector," said Mitch. "We don't have ketosis or fresh cow problems anymore. Switching to the Vector is when our cow health really improved."
The Malms also observed that since using the Lely Vector and feeding more often, the components in the milk have improved. They saw their milk yields increase between eight to nine pounds and fat and protein percentage increase about 0.2 – 0.3% each. That equals out to being 10,000 pounds of extra fat and protein each just due to the implementation of the Lely Vector and eating fresher feed more often.
The Lely Vector has also given Mitch a better handle on his feeding regimen. Knowing exactly how much his herd is eating has enabled him to reduce waste.
"We have noticed that you can keep a lot closer watch on your feed inventory," said Mitch. "You always know what you're feeding and it's less wasteful. The Vector has made it much easier to keep track of my feed costs."
The savings gained through feeding costs, labor, electricity, health bills and fuel have made the Lely Vector a great success for Malm's Rolling Acres.
"It's such a shift in the way farmers think," said Joel Eberhart, Feed & Barn Sales Specialist for Lely North America. "In that first call with them, price always comes up very quickly. I talk to them about their milk yield, the feed they're wasting and the fuel they're using. I then go through the return on investment with them and it's exciting. They get it."
With low operating costs, the flexibility to fit in any operation, 24/7 availability and precision feeding, the Lely Vector is suited for every farm and an investment that is quickly recouped. More frequent feeding is good for cow health, fertility and milk production, and improves feed efficiency because the cows get more out of their feed. Automatic feeding with the Lely Vector goes one step further, offering a number of benefits.