Seehafer Refrigeration currently supports 32 dairies with 130 Lely Astronaut robotic milking systems between its two locations in Sparta and Marshfield, Wisconsin.
Emphasis on Dairy Cow Comfort
As the Lely Center's robotic milking customer base continues to grow, so has the performance of the dairies it supports with Lely automation. Today, 14 of Seehafer Refrigeration's customers produce more than 90 lbs per cow per day. What's the secret sauce to these impressive numbers? Lely Center owner John Seehafer sat down with us to share what it takes.
As all dairy producers know, a comfortable cow is a productive cow. A clean barn with deep-bedded stalls is key to a top-performing herd. Various features of the Lely Astronaut robotic milking system also support cow comfort, such as its quiet hybrid arm, teat detection system, I-flow concept and more. The Lely Astronaut also supports the free cow traffic vision, where the cow decides when she eats, drinks, sleeps and is milked. Because the cow chooses when to be milked, her daily milkings increase, which leads to maximized production.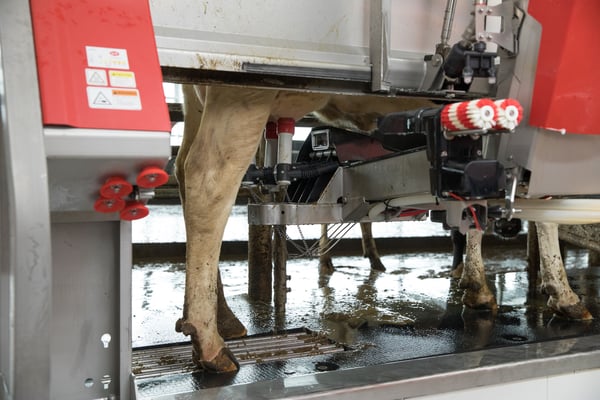 Feed Strategy of an Automated Dairy
The feeding strategies of each of Seehafer Refrigeration's top-performing dairies have also contributed to their high productions. The Lely Astronaut offers the ability to feed the cow according to her needs while she's milking in the box.
"We're individually feeding these cows based on their milk production and where they are in their lactation. We're feeding these cows for more milk," John said. "Those that are getting the feed in the robots are the ones that are producing the most milk."
The number-one producing dairy of the group is currently at an average of 107.5 lbs per cow per day with four Lely Astronaut A5s in a retrofitted original free stall barn. The farm's team has been milking robotically for two years, and feeds their cows corn gluten pellets in the robot. John believes the herd was able to reach this high production more quickly because of the retrofit. The fact that the cows did not have to adjust to a new environment eased their transition to robotic milking and helped maximize their production levels faster.
"There is no reason to doubt a retrofit in an existing facility with robots. We can retrofit a robot into so many different situations, whether it be free stall, tie stall or something else. We have such a variety of different robot configurations that we can make any scenario work," John said.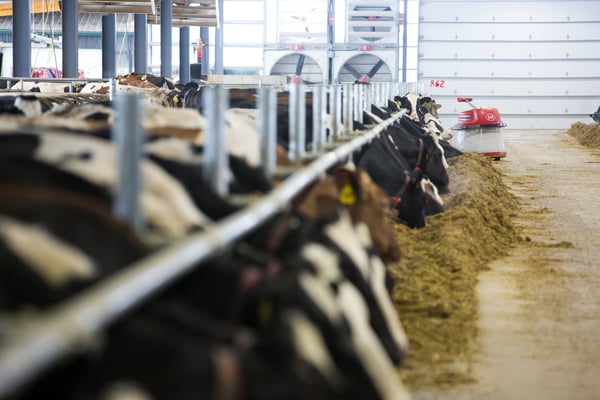 Each of these 14 dairies also utilizes the Lely Juno automatic feed pusher. John believes keeping feed in front of a milking herd at all times is very important for its performance, and the results of these top-producing dairies certainly supports this. Feed at the fence also needs to be of good quality, with high-quality forage.
Incremental Growth with Robotic Milking
Three of these high-performing dairies are considered "Dairy XL" (a herd with more than 500 cows), including Wisconsin's largest robotic milking dairy, Miltrim Farms, Inc. This operation made the transition to Lely robots in late 2019/early 2020 with 18 Lely Astronaut A5s, and recently added 12 more in July of 2021. The dairy now milks 1,800 cows with Lely robots and 1,200 in a parlor system.
"What's neat for Miltrim Farms is that they could start biting off pieces as they choose without diving all in. It's nice they can take small steps, unlike how they would have to do with a parlor, especially rotaries," John said.

Skilled Team with a Passion for Dairy Farming
The combination of Seehafer Refrigeration's dedicated installation, service and Farm Management Support (FMS) teams have also helped these 14 dairies achieve their high levels of success. John is confident that more farms in his area will also reach these high production numbers with the help of Lely robotic milking. However, he and his team understand that everyone's goals are different, whether it be better breeding, minimized labor or a better work/life balance. Seehafer Refrigeration is here to help dairy producers in its area come up with a strategy specifically designed for their businesses.
John believes automation is the future of the dairy industry.
"Labor is a serious issue throughout the United States. Lely robots are all about cow comfort, production and having the data to manage your cows without actually standing next to them everyday," John said. "We're going to see more and more robots on all dairy sizes. In my opinion, we're just at the beginning of that, especially in our area."
If you are interested in learning how you can achieve your dairy's goals with Lely automation, contact your local Lely Center today! If you live within a 90-mile radius of Seehafer Refrigeration's Sparta and Marshfield locations don't hesitate to give them a call at 715-387-3789, follow their Facebook page or visit their website.