Lely North America is proud to announce the addition of San Joaquin Valley Dairy Robotics of Tulare, California, to its network of Lely Centers.
San Joaquin Valley Dairy Robotics started out as a joint venture with the partnership of Rick Mayo, Kevin Clarot and John Pereira. A division of San Joaquin Valley Equipment, the dealership has established itself as one of the premiere innovators in the Californian dairy industry. The team has always been at the forefront of the latest advancements in dairy equipment and is very comfortable embracing cutting-edge technology.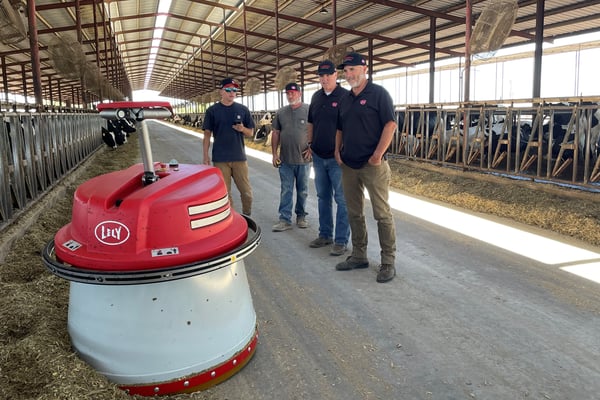 From right, San Joaquin Valley Dairy Robotics co-owner Rick Mayo, new salesman Mike Tinker and team inspecting the latest Lely Juno installation.
After extensive research for the right partner in dairy automation, San Joaquin Valley Dairy Robotics decided to join forces with Lely North America and become a Lely Center.
"Lely has a great reputation for understanding the animal husbandry aspect of dairy farming. After a lot of research around the country, we saw that their products offer the lowest cost of ownership, and we believe that'll be a large selling point going forward," said Rick Mayo, co-owner of San Joaquin Valley Dairy Robotics. "Lely knows robots. It's what they do. It's also refreshing to see the amount of support they offer, which is what we need to make this work. We've seen great partnerships between Lely and its dealerships."
San Joaquin Valley Dairy Robotics' team includes individuals who have been with the business for years, accruing a wealth of experience and providing a broad knowledge base to their customers. Various team members of the company have also gained international exposure at dairies overseas that they also use to further optimize their customers' businesses. The Lely Center boasts of a great team-focused working environment, allowing its staff to work well together and give each project 100%. San Joaquin Valley Dairy Robotics is known for its professional, timely installations and excellent support behind each customer.
"We don't let things sit for long. We push pretty hard to make sure everyone can go to bed at night, both our customers and team included. We're all in the dairy business to enjoy it while also being profitable," Mayo said.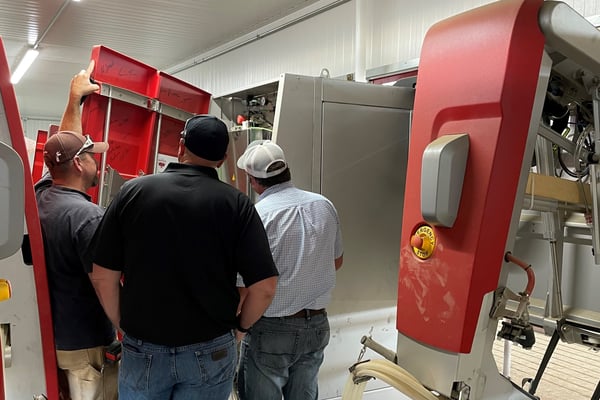 The San Joaquin Valley Dairy Robotics team touring the latest Lely robot installation in California.
Adding Lely solutions to San Joaquin Valley Dairy Robotics' product portfolio is the team's next step in bringing further innovation to its customers. The Lely Center's staff understands that an emphasis on animal welfare will continue to become more and more important in the dairy industry. Lely solutions give dairy producers the peace of mind that they are doing what is best for the cow, offering enhanced longevity and comfort that ultimately contribute to maximized performance. The ability to expand incrementally with robots is also a huge advantage for large dairies who wish to grow over time, with a less dramatic financial impact.
Lely was the first to bring the robotic milking system to the market in 1995, and continues to be a driving force for new technologies in the dairy industry. The company is proud to partner with San Joaquin Valley Dairy Robotics and support more dairies in their pursuit of a sustainable, profitable and enjoyable future in farming. San Joaquin Valley Dairy Robotics is excited to join the Lely Center network and looks forward to providing its customers with the latest in Lely automation technology.
If you live near Tulare, California, and are interested in learning how Lely solutions could optimize your dairy, contact the San Joaquin Valley Dairy Robotics team today! Also be sure to follow them on Facebook and Instagram.