For the seven members of the Sunderland family, dairy farming is more than just a job. It's in their blood. Since 1842, five generations of Sunderlands have owned Rolling Acres Farm in Bridport, Vermont. The family raises 440 cows on their 450-acre farm in Addison County, also known as the land of milk and honey for its rich and vibrant farming tradition.
Bob and Nancy Sunderland, along with their five children, appreciate this tradition, but it hasn't stopped them from embracing the advantages of new technology.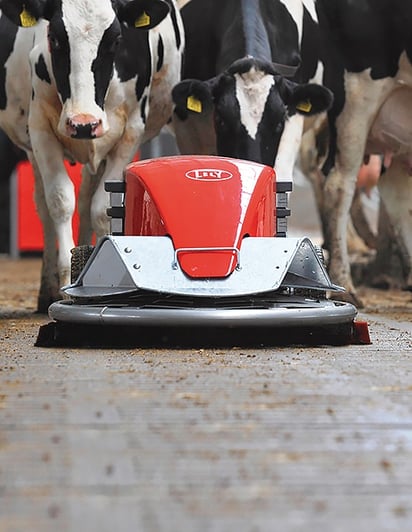 "We were in a facility that wasn't working for the number of cows that we had. Cow comfort was an issue," Bob said. "Our barn was 50 years old at that point so we decided to build a new barn and make the transition to robotic milking."
In May 2017, the Sunderlands purchased four Lely Astronaut A4 robotic milking systems, a Lely Calm automatic calf feeder and a Lely Discovery mobile barn cleaner. The machines were installed in their new, state-of-the-art, free-stall barn. The updated facility and automatic milking systems allowed for maximum ventilation and cow comfort, improving overall cow health. The Sunderlands realized their cows were clearly enjoying and behaving naturally in this new environment, and milk production increased well above expectations.
"We knew we were going to get an increase in production just by going from two to three milkings a day. We expected 10 lbs. additional but got 15 lbs., sometimes we got as much as 20 lbs. more," Bob said.
Bob credits the improved cow health and production to consistency.
"The robots have taken out a lot of the variables. The consistency is there all the time. We had good procedures and workers, but slippage will happen. With the robots, the cows get the same thing every time," he said.
By moving to robotic milking, the Sunderlands have freed up the two employees who had been milking twice a day.
"We were spending 20 man-hours a day just milking cows. Now we've taken that time to focus on other aspects of the farm. We're putting up better feed too," he said.
Transitioning to robotic milking wasn't a long or difficult process either, with the Sunderlands' local Lely Center providing expert service to answer all of their questions.
"It took us around 2.5 months before the cows got the hang of the new barn and system. The process was smooth. Lely Center Vermont was informative on what to expect," Bob said.
Spring into Savings on Dairy Automation with Lely!
Now is the time to take advantage of our spring financing offer of NO INTEREST for 60 months on the Lely Astronaut A5 robotic milking system and Lely Vector automatic feeding system. Hurry now, because this promotion only lasts until May 31, 2020. Flexibility, efficiency and freedom – that's The Way to Dairy!