"Last week I spent 78 hours in the field," said Lely Astronaut owner Brent Wessel. "I was in the barn probably three."
Farmers across the corn belt are experiencing one of the wettest springs they can remember in their lifetimes. According to the USDA, only 49 percent of the corn crop is planted. Forward-thinking dairy producers like Brent Wessel of Iowa are able to apply their labor hours differently with the flexibility of the Lely Astronaut automated milking system.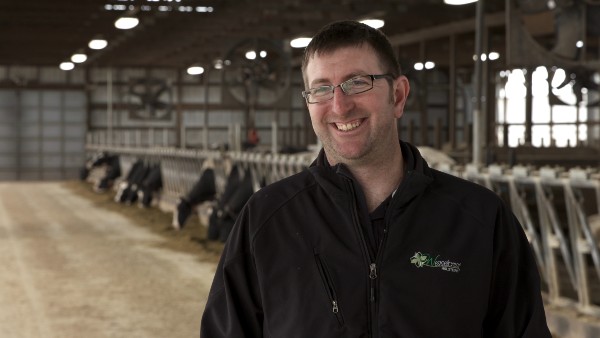 Imagine having more time to focus on the areas where you see the greatest opportunities for your operation. Whether you're invested in crop farming or the breeding side of herd management, robotic milking gives you the tools to do your job well and with improved efficiency.
Automation introduces a new routine on your farm, providing greater flexibility, more efficiency and a better work-life balance. Farmers are no longer reliant on labor showing up to work, working hours have flexibility and individual cow management by automatic milking is achievable. Gaining increased convenience, improved efficiency and a better bottom line have never been more attainable.
Let your cows develop their own individual rhythm that suits their needs and stage of lactation when you automate milking. Automatic milking systems allow each cow to develop a consistent routine that suits their individual rhythm, as well as their needs and stage of lactation. No human intervention is required with the Lely Astronaut A5 robotic milking system, so there's no disturbance of the cow's natural rhythm.
A reliable machine means fewer disruptions. To be outstanding in terms of reliability and uptime, we eliminated components and extended the lifetime of others. The worldwide test program that was run for the Lely Astronaut A5 was the most intensive ever for automated milking, designed to ensure flawless operation under any circumstance. This Astronaut A5 is built for peace of mind so you can concentrate on the task at hand.
Highest reliability: built to last, thoroughly tested
Maximum uptime: flawless operation, reduced service time
Proven performance: a 'thought‑through' system backed up by experts
When you have a good overview of your herd, your cows are healthy and everything is running well, you will have peace of mind. This is exactly what the Lely T4C management system is about. It shows you, wherever you are, how your farm is running. It will separate the cows that need your attention and provide clear reports and tasks. It helps to structure work and offers you, in three clicks, information from a full herd insight to a cow that needs your attention.
The flexibility and time management that comes from automated milking has proven to be valuable for farmers as it allows more time for field work by helping manage many tasks through the busy spring. The more you can rely on the Astronaut, the better you can make use of the saved hours and flexibility.