Josh Poulin comes from a long line of ambitious individuals who have run a variety of businesses, from dairy farming to feed sales to lumber. Josh has been managing Poulin Grain since 2008, but has always had a special place in his heart for dairying.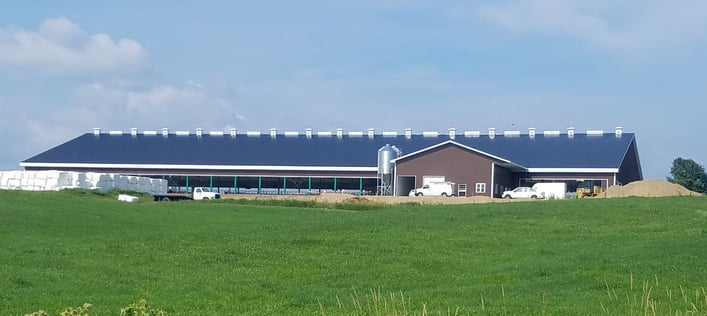 Robotic Milking Enhances Cow Comfort
Ever on the lookout for cutting-edge technology and requiring minimized labor so he could run both the dairy and grain businesses, Josh knew robotic milking was the way to go. With the support of the team at Lely Center New England, John started planning for his farm's new facility.
In 2018, a brand-new freestall barn was built on Poulin Farms that now houses six Lely Astronaut A4 robotic milking systems. Josh chose Jerseys for their ability to efficiently convert energy into solids, and was highly selective when purchasing his registered animals. Josh and his team are very pleased with the cow comfort and management capabilities the Lely milking robots offer. The herd is currently averaging 3.2 milkings per day, 62 lbs per cow per day, 5.2% fat and 3.6% protein.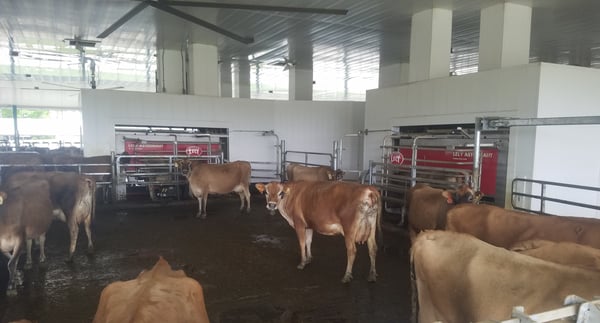 Lely Automatic Feeding Helps Increase Production
During the summer of 2020, a Lely Vector automatic feeding system with two mixing feeding robots (MFR) was installed at Poulin Farms. Just two weeks after starting the system, the herd's average daily milk production increased by 5 lbs. The Poulins' Lely Vector MFRs also feature the new high-speed auger for improved mixing and cutting quality.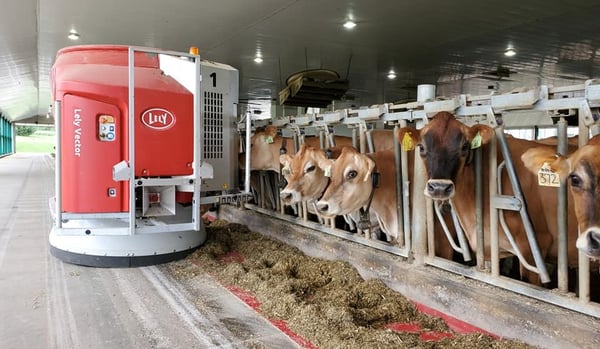 The Lely Vectors have made feeding easier for the team, requiring only one daily loading of forages into the commodity boxes. The system provides consistent, fresh feed in front of the cows and feed refusals have been minimized to nearly zero thanks to the system's "feed to need" process.
Fully Robotic Dairy Farm
But Poulin Farms doesn't just consist of robotic milking and feeding. The dairy also features four Lely Discovery 120 Collector mobile barn cleaners that support a clean environment for the herd with their manure-vacuuming systems. The cows can also groom themselves with Lely Luna cow brushes. The operation's calves are fed with two Lely Calm automatic calf feeders for improved calf welfare and growth.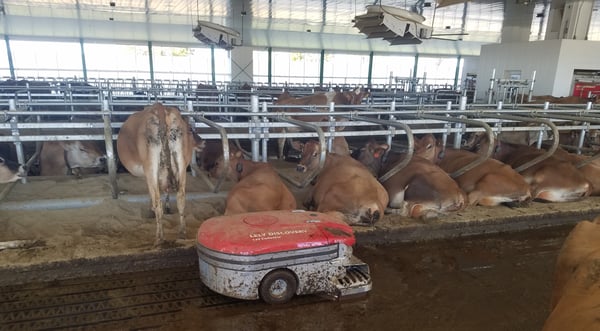 Bottom line, Lely robotics have helped Josh to successfully run multiple businesses, and Poulin Farms is the epitome of an innovative automated dairy.