Pattison Dairy of Garnavillo, Iowa, was established in 1979, and started milking its 700 Holsteins with twelve Lely Astronaut A4 robotic milking systems in 2018. Owner Lee Pattison is a very cow-oriented manager, and has been pleased with the many sorting and cow comfort capabilities the Lely robots provide.
Inherent Passion for Dairy Farming
Lee Pattison was raised on a dairy farm and grew up helping his family milk cows. Even though he left home to pursue an accounting degree and his family stopped milking cows while he was away to college, Lee could not stay away from dairy farming.
Lee began his own dairy at the farm's current location in 1979 with 29 cows that he milked with surge bucket milkers. In 1993, Pattison Dairy began milking its herd with a parlor. After 25 years of milking with the parlor, Lee knew it was time to upgrade to a new milking system that would enhance cow comfort and reduce the need for hired labor. None of Lee's children have the desire to take over the dairy in the future, and he wanted to invest in a new system that would also have resale value in the future.
Automated Barn Design Offers Ideal Sorting Capabilities
At the 2017 World Dairy Expo, Lee attended a Lely event where automated barn designs were the topic of discussion. The layout that stood out to Lee was the long L-shaped design and its sorting capabilities, which is pictured below. This particular design offers ideal sorting potential, allowing cows in the management area easy access to the robot and a straightforward return to the sorting pen. Lee also toured other automated dairies and liked how each herd seemed peaceful as a result of the robots.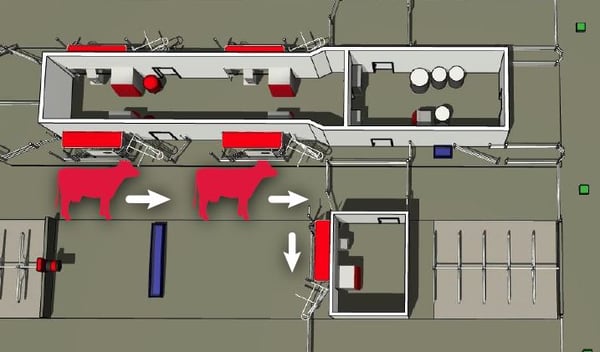 Having good dealership support is important when making the switch to dairy robots, and Lee felt confident when turning to Precision Dairy Equipment for next steps.
"When you have robotics, it's really important to have a dealer you can count on. I have known my dealer for 41 years and have always been satisfied with them. Leah Lange is really good at what she does," Lee said.
Lely Center owner Al Prier and Farm Management Support Advisor Leah Lange brought years of experience to the planning process of retrofitting the dairy's two free-stall barns for automation. The long L-shaped design also allowed the team to install the robots without having to disturb the cows by removing them from their pens.
Lely Robots Enhance Lifestyles of Dairy's Herd and Staff
In 2018, 12 Lely Astronaut A4 robotic milking systems were installed at Pattison Dairy. Each pen has three robots that milk 170 to 180 cows. Each barn also includes sorting pens for fresh cows and cow maintenance, and the robots allow the team to sort cows whenever vaccinations, breeding or hoof trimmings are needed. This robot layout ultimately saves the dairy's staff a lot of time with its sorting capabilities.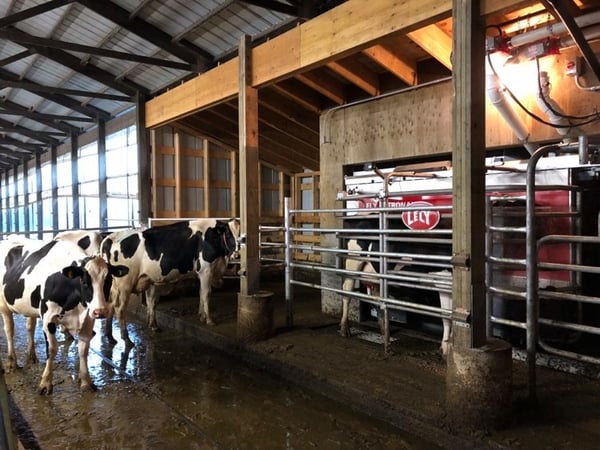 The decision was made to transition to automated milking in two waves, beginning with six Lely Astronaut A4s in September 2018 and the other six in October. Leah, along with members of her team, were there to manage the startup process. Each cow received a few days of pre-training prior to startup, which involved going through the robot box and being rewarded with a pellet feed. This pre-training helped ensure a smoother startup, and the cows were able to catch on quickly.
Lee also invested in two
Lely Juno
automatic feed pushers. These robots are programmed to run about every four hours and help maintain consistent feed at the fence. The dairy's previous method of pushing feed involved the use of a loud skid loader, and these quiet robots have been a pleasant change for both the staff and herd. The farm also has a direct tanker loading system that supports a high level of efficiency on the operation.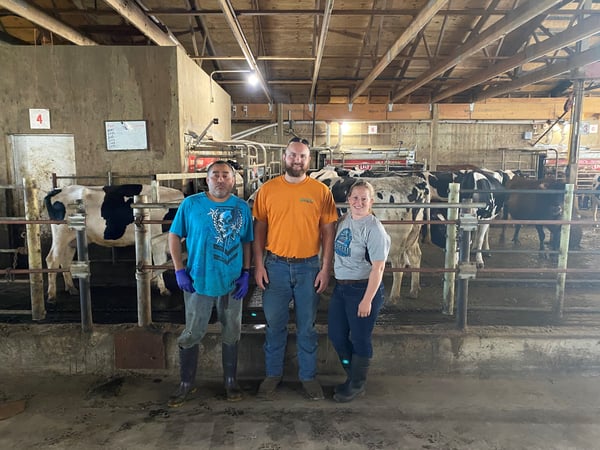 Since making the switch to automation, the team at Pattison Dairy is satisfied with the changes they've seen. Milk production has peaked higher with the robots than it did with the parlor, going from approximately 94 pounds to 101 pounds. The farm's cull rate has also dropped since the transition, with considerably fewer injuries occurring due to Lely's practice of free cow traffic. Lee is pleased with the fact that his herd is also consistently laid back and peaceful.
The staff's time at Pattison Dairy has also been freed up due to Lely robots, and only four people are required to manage the large herd throughout the day. The operation also has 1,100 acres of farmland with nearly half of that land used for growing the dairy's own alfalfa haylage. As a result of robots, more of the farm's workers are able to focus on maintaining those acres. Overall, Lee and his team are very satisfied with the benefits the Lely robots have provided Pattison Dairy, and look forward to continued success with dairy automation.