Fifth-generation dairy farmer Chad Folsom returned to the family farm in 2006. Utilizing a double-12 parallel milking parlor to milk 300 cows, he knew they were maxed out in that tight space.
The decision to automate milking
"Our cows were milking around 30 liters per cow per day," Chad said. "We moved into our barn and the cows went up to about 32 on average. Everything was about average and I just wanted more. We had a good facility so we tested the waters with going to milking three times a day. It was really hard on the animals. The cows only went up to about 35-36 liters per cow per day so we went back to two milkings per day. That's when we made the decision to automate."
It was a big decision, and one that sparked more questions. Would carousels or milking robots provide the greatest benefit for their farm? What was the best decision economically?
Choosing Lely milking robots
Chad explained how he and his family determined robotic milking was the solution they were looking for:
"We were looking at a parlor, but our parlor kept breaking down so we knew we didn't want parlors anymore. We felt the efficiencies and labor benefits would be with carousels or robots. After touring several carousel and automatic carousel facilities, we felt the only thing we were saving was on labor. Everything else was par with what we were already doing. So, we didn't feel the carousel was too advantageous for us, just a little bit of labor savings during the milking process was all. We live in an isolated area where it's hard to find a good, solid labor source that wants to live out here."
Going to work, Chad began to look at the feasibility of each option.
"When we toured other robotic facilities, there was never anyone unhappy they put the robots in. People who put in other types of milking systems weren't happy with them. We never ran into anyone who put in a Lely robot who wasn't pleased they went red.
"So we looked at robots. The robots were checking all our boxes. I penciled it out and it was quite a bit cheaper for me to go with ten robots than to build a carousel. We looked at all different brands, toured with other companies and we just felt that the full support from Lely put them far above the rest."
Robotic barn layout
They began the process of choosing the right barn layout for their operation by visiting large herd robotic dairy farms. They visited dairies in Minnesota and Indiana before working out the design of their barn under the guidance of Lely North America and their local Lely Center, Penner Farm Services.
"We toured a lot of XL facilities and took things that we liked and felt suited our operation and used them to develop our design," Chad said.
Going with 10 Lely Astronaut A5 robotic milking systems, they broke them out into five groups with each group containing about 110 freestalls. The robots are in a tollbooth layout, putting eight of their robots within 60 feet of each other. Each robot room houses two robots and the small robot rooms require minimal space in the barn.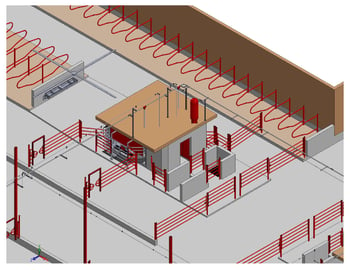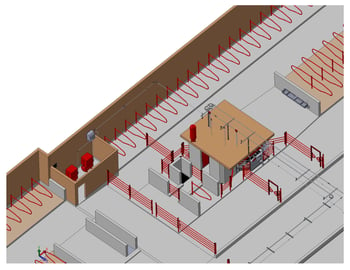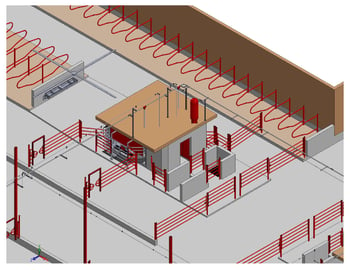 3D renders of the Folsom Barn Layout with the Lely Astronaut A5 robotic milking system
Training the cows and the people
Chad worked with his local Lely Center, Penner Farm Services, to build the barn and begin the process of transitioning his cows to the robots. He soon discovered that not only his cows needed training, but the employees needed to be trained as well.
"We had to change our mentality. We had been herding and pushing cattle our whole lives and it was interesting to have the Lely Center tell us to stop pushing cows into the robots and allow the cows to make the choice themselves. It was quite a change for us.
"After about four days, the cows were good to go. We didn't have any issues with any of the equipment at all. The technicians were just there for moral support than anything."
A jump in production
Milking about 32 liters per cow per day before the robots, Folsom Dairy was pleasantly surprised by the immediate results they saw with the Lely Astronauts.
"Three weeks after move in, our cows were all the way up to 42 liters per cow per day," Chad said. "I was hoping for 36, 37, 38 liters after a few months. It has dropped a bit due to some feed changes, but right now we are averaging about 39 liters per cow per day. It was much more than I expected."
Though Chad expects those numbers to continue to fluctuate as they experiment with their feed plan, he believes that robots were the solution to making his dairy sustainable.
"The benefits that you get from the robots are so much better than anything else on the market. You get labor savings, cow stress level savings, herd health savings, and so much more. Anyone who is considering robots should stop considering and just go for it."