No animals perished in the barn fire that ravaged Oakleigh Farm in 2019, but the damage to the longtime dairy facility was significant.
A barn was a total loss, forcing the Brake family to milk their herd at a neighboring facility for seven months while a new barn was being built. Fortunately, the family's friends and neighbors were there to help.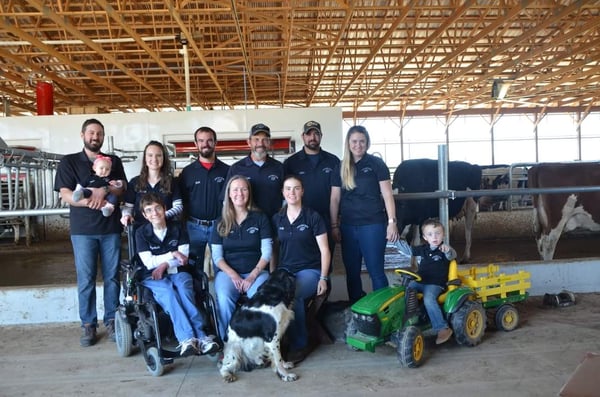 "It was quite the adventure," said Matthew Brake, the fourth generation of his family to work the Mercersburg, PA, farm. "We definitely wouldn't have been able to do it without the local community. We couldn't have done it without all of them."
When the Brakes returned to their home farm in July 2020, they were greeted with a brand-new barn sporting a Lely Vector automatic feeding system. The cows were temporarily milked in a parlor that survived the blaze. But in August of that year, the Brake family transitioned their 120-cow herd to robotic milking via two Lely Astronaut A5 robotic milking systems.
"We're definitely seeing positive trends and we're really excited," Matthew said.
The Switch to Lely Robotic Milking
Matthew's parents, Glenn and Karen Brake, had been considering switching the herd to robotic milking for some time. Relying on "1950s technology" for milk production was taking its toll, and the industry was clearly heading in a different direction, according to Matthew.
But the family had never done much more than speculate about the financial ramifications. Then the fire made the decision for them.
"It was a tipping point for our family. All of us – me, my parents, my pap and my siblings – wanted to see the cows come back," Matthew said, recalling a conversation with his sister about making the switch. "We just kind of said, 'Hey, this is the way forward. This is the future of the industry.'"
Fortunately, it was easy to sell it to Glenn. He just needed to see the machines in motion.
"I never had to fight dad about robots," Matthew said. "Once he saw them, he was convinced."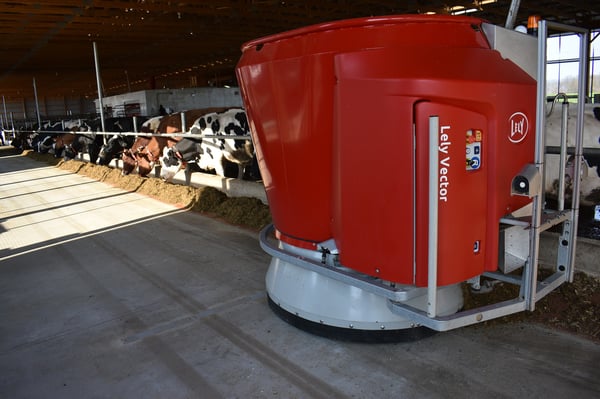 The family worked with Lely Center Mid-Atlantic, of Leola, PA, to find robotic solutions.
The new technology was a leap forward in more ways than one. Not only were the cows milked using old-school methods, the family still kept records on pen and paper.
With Lely automation, they suddenly were presented with a new level of data and technological precision.
"We were one of the first parlors in the county to be built," said Matthew. "Now we're one of the most automated barns in the area."
Lely Offers Freedom and Flexibility
Matthew is full-time at his family farm, but it's not his only interest. For example, he also works as a flight instructor. Likewise, his sister was a full-time coach at an area school while still splitting time at Oakleigh Farm and his brother works full-time off-farm as a mechanic.
The addition of the Lely Vector and the Lely Astronaut A5s didn't eliminate their workload on the farm, but it did allow a far greater degree of flexibility.
"This has made it a lot easier for us to focus on our other interests as well," Matthew said. "We've adapted pretty well."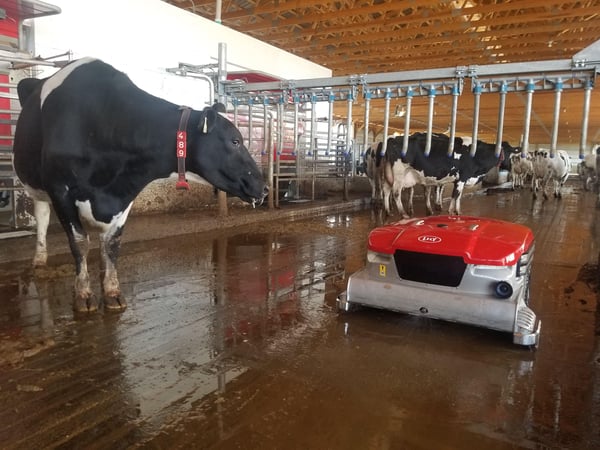 The cows have also adapted admirably. The potential for long-term benefits is exciting.
"We're really excited for the trends we saw and what our cows showed us," Matthew said.