Two years ago, Miltrim Farms, Inc., of Athens, Wisconsin, began the search to ensure the dairy's future sustainability. The operation's team conducted extensive research and planning before concluding that Lely was the easy choice to reach their goals.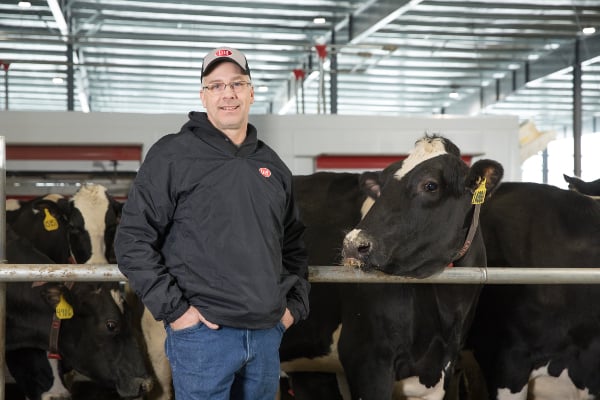 Innovative Planning for Automatic Milking
Miltrim Farms, Inc., began in 1988 with 40 cows. The operation has grown considerably since then, and now includes approximately 2,500 cows and 4,800 acres of cropland. Always strategically looking ahead, owner Tom Mueller and his nephew and general manager David Trimner knew they needed to build a new facility with an innovative design. Over the course of two years, they toured more than 20 dairy operations spanning two countries to help choose every detail of the new barn's layout. John Seehafer of Lely Center Seehafer Refrigeration was a key resource throughout the entire planning process by offering insightful recommendations and joining them on dairy tours.
The end result of this joint effort is a state-of-the-art facility that is the ideal combination of every feature the team liked from their dairy tours. The building has a long L-shaped design with a neutral pressure system that aids with air quality and climate control. The majority of the barn does not have head locks, which has been more cost-effective and gives the herd more free flow ability. The barn also has transparent side paneling, which gives the building a naturally bright interior and ultimately cuts costs on electricity.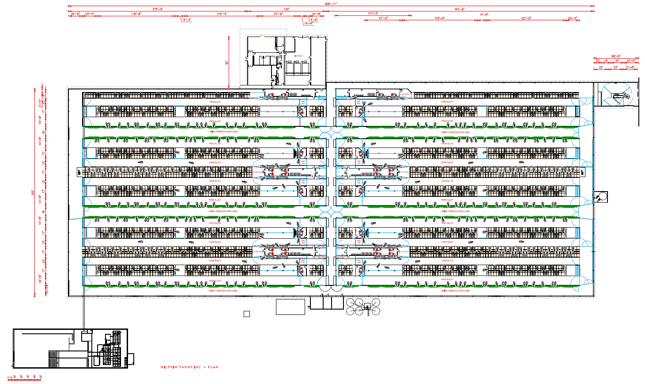 Miltrim Farms' barn layout.
Transitioning to Lely Robots
When selecting dairy robots, Lely stood out to Tom and David because of its prioritization of cow comfort. They knew free flow was part of their new structure's concept and had no doubt Lely would be an essential foundation for their vision. Eighteen Lely Astronaut A5 robotic milking systems now milk 950 cows in the new barn, with 1,550 still being milked in their parlor. The staff at Miltrim Farms, Inc., has been pleased with the installation and service provided by John and his Lely Center team, and appreciate their attention to detail. The design was laid out so every cow would be milked from the same side each time. This is another factor that contributes to cow comfort, because it provides consistency and a better sense of security for the herd. The barn also includes three Lely Juno automatic feed pushers, which aid in feed efficiency.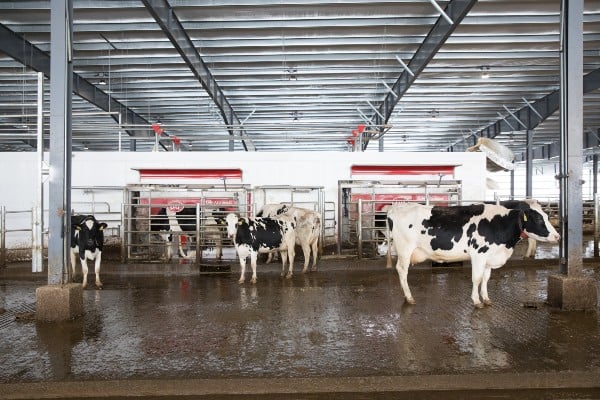 Miltrim Farms, Inc., had the first startup wave of Lely Astronaut A5 robotic milking systems in October of 2019, with a second wave in December. David noted the relative smoothness of the whole process. The staff spent time pre-training the cows a week before milking began by putting them through the robots and rewarding them in the form of a tantalizing treat. As a result of this training, starting to milk the cows with robots was fairly painless.
Dairy Production Promotion and Environmental Awareness
Tom and David have plans to bring visitors to their farm to witness where and how milk production occurs, and Lely robots will be part of the positive setting agritourists will see. Walking into the barn, one can't help but notice how quiet and calm the environment is. It's clear the free flow design of the building has enhanced the herd's lifestyle and overall comfort. Another goal of the operation focuses on lowering its environmental footprint per cow as well as its energy consumption. The dairy was the first farm to be designated a Clear Water Farms program, receiving this certification as a result of their responsible handling of water resources. The team at Lely North America is proud to support Miltrim Farms, Inc., with Lely robotic solutions and looks forward to seeing the operation progress even more in the future!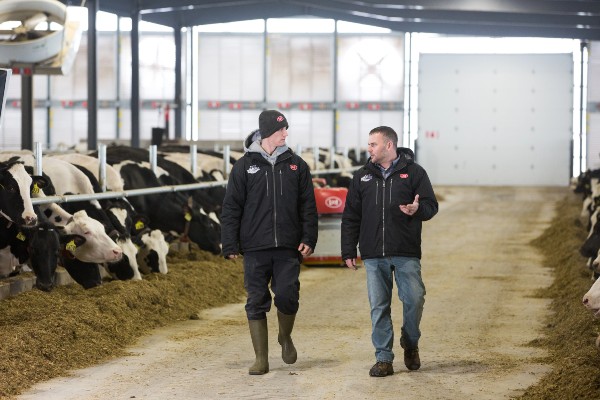 Watch the video below to learn more about Miltrim Farms, Inc.: