Each week of June Dairy Month, we feature one family dairy who is producing and selling dairy products from the milk harvested from their cows. This week MOO-ville Dairy has shared their favorite milkshake recipe. Family owned and operated, MOO-ville began in 1991 when the Westendorp family moved to the farm in Nashville, Michigan. As their six kids grew older and voiced an interest in returning to the dairy, the family had to figure out a sustainable way to grow their operation so there would be enough work for everyone.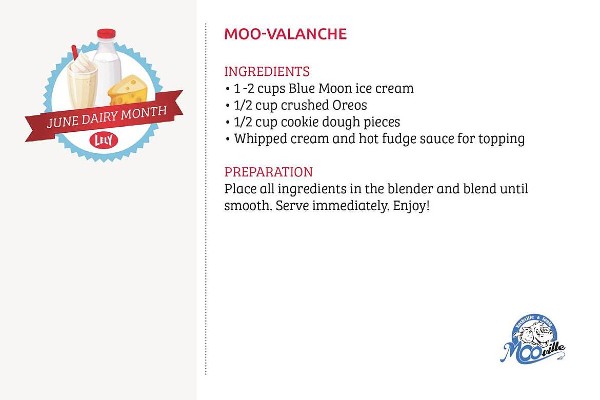 Weighing the pros and cons of simply expanding their dairy operation, the Westendorps discovered they could better control prices instead of relying on the dairy market if they opened a creamery. Though they originally opened the creamery with just the idea of producing and selling milk, they were soon adding ice cream, cheese and butter. Now boasting more than 75 available ice cream flavors, MOO-ville was named the Best Ice Cream in the state by Food Network in 2018.
Listen along as Troy Westendorp joins Bellana Putz on Dairy Robot Radio, discussing the creamery and how they grew the herd from 90 head to 220 head, without increasing labor costs, by adding robots in the barn.
Other milkshake recipes to try:
I Want S'More Milkshake from Sheldon Creek Dairy

Dan and Debbie's Banana Cream Pie Milkshake