Spring into savings with Lely's new financing offer! We are excited to give dairy producers the opportunity to save on select Lely automated milking and feeding solutions with NO INTEREST for 60 months.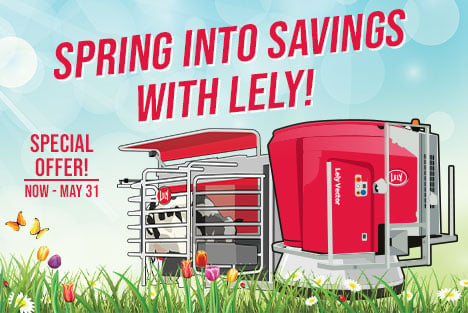 Spring into Savings with Lely!
From now through May 31, 2020, Lely is offering NO INTEREST for 60 months¹ on the Lely Astronaut A5 robotic milking system and Lely Vector automatic feeding system. This spring sale is a wonderful opportunity to enhance the lifestyle of both you and your cows and improve your operation's efficiency with robotic milking products! Get qualified with Lely Finance, make a minimum 10% down payment² and you'll be on your way to paying no interest for 60 months.
Click below to have your local Lely Center contact you with more details!
The A5 Robotic Milking Advantage
With the Lely Astronaut A5 robotic milking system, cows are given optimal freedom with free cow traffic. Every cow can choose when to eat, drink, relax or be milked. Each feature of the milking robot is designed to contribute to the herd's natural rhythm and comfort.
"In the end, a healthy and stress-free cow produces more milk. With the Lely Astronaut A5's free cow traffic, cows have the freedom to do as they please. The I-flow concept gives her open access to the robot, making her feel comfortable entering the system," said Ben Guelker, Lely Product Manager, Milking and Cooling.
With the Lely Astronaut A5, running your dairy has never been easier. The user-friendly system allows you to enjoy farming while having total control over your herd. The robot also comes with the Lely Time for Cows (T4C) management system, which gives you the ability to track a cow's health, production, milk quality and more! Delivering real-time insight, this system provides data that will help managers take direct action when necessary and act preventively.
But don't take our word for it. Watch this video to learn why Fred and Joel Albright of Albright Jerseys chose the Lely Astronaut for their large dairy!
Smart Feeding Works!
Smart Feeding with the Lely Vector automatic feeding system has proven to stimulate fodder ingestion and keep rumen pH value constant, which ultimately lead to increased milk production. The robot is able to sense when it's feeding time by measuring the feed height of each section to determine when the ration needs to be restocked. This allows for the perfect amount of constant feed at the fence for your herd.
The Lely Vector also allows for precise feeding. The machine gives you the ability to decide which nutrients should be included in the ration for each group of animals, and uses intelligent software to calculate the exact amount. This system is suitable for a variety of cows, whether you need to feed calves, beef cattle, lactating cows or dry cows. Compared to feeding with a tractor, this energy efficient robot could also save you significantly in fuel costs per year according to product owners.
Watch the video below to discover the positive impact the Lely Vector has made on Ben Rein and his dairy.
Hurry now to take advantage of this offer before May 31, 2020! To learn more about other Lely robotic milking solutions, visit our website. We look forward to partnering with you in the future!
¹0% financing for 60 months on both the Lely Vector automatic feeding system or the Lely A5 automatic milking system is offered through Lely Finance, an agreement between DLL Finance LLC and Lely North America, Inc. All financing by Lely Finance is in its sole discretion and subject to credit review and approval and other terms and conditions. Some exclusions apply, contact your local Lely Center for complete terms of offer.
²Based on credit review.
Lely North America, Inc. prepared the information contained in these materials.