20 years ago, Knigge Farms of Omro, Wisconsin, was the first dairy farm in the U.S. to take the leap into robotic milking. Today, at nearly 18 years old, grandson Jacob knows no other way of harvesting milk on the family farm. These early adopters saw a different way of life for their cows and themselves. Read on to discover more about what has happened to Knigge Farms during the past two decades and why they recently signed their new Lely Astronaut A5 robotic milking systems at Lely North America's headquarters in Pella, Iowa.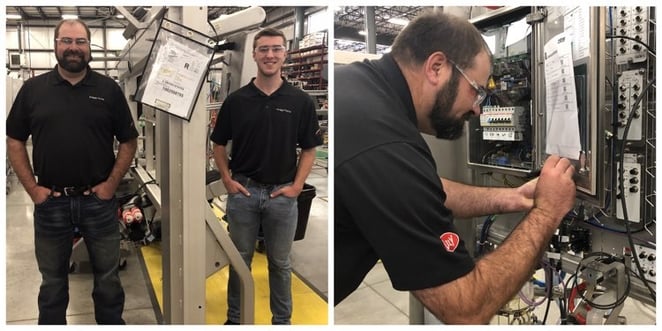 Charlie and his 17-year-old son Jacob visiting Lely North America's factory where they signed their new Lely Astronaut A5s.
Robotic Milking Pioneers
Pete and Theo Knigge moved to their farm in 1974 and have been dairy farming ever since. Their son Charlie and 17-year-old grandson Jacob are now key parts of the farm as well. The operation also includes 600 acres of cropland and a small contracted forage harvesting business. After using a 50 stall stanchion and pipeline barn for many years, the Knigges began considering an upgrade to a parlor and possible expansion of their herd. However, they were not excited about the idea of hiring and managing more employees to run the business. Pete knew he was a more than capable cow manager, but did not want to increase labor requirements for the dairy.
When Pete visited the Netherlands with the Wisconsin Department of Agriculture to observe manure regulations, he witnessed a new way of milking that had never been seen in the United States. Pete's plans for the future quickly changed after seeing cows "milk themselves" with Lely robots in a Dutch university's free stall barn. At the 1999 World Dairy Expo, Pete and Charlie met with Lely representatives from the Netherlands and Pete made another trip abroad to talk to Canadian Lely experts. The Lely team helped the Knigges design a new four-row, free stall barn that would house two Lely Astronaut A2 robotic milking systems. The robots would allow them to milk an expanded herd size of 120 cows in two separate pens with no additional hired labor.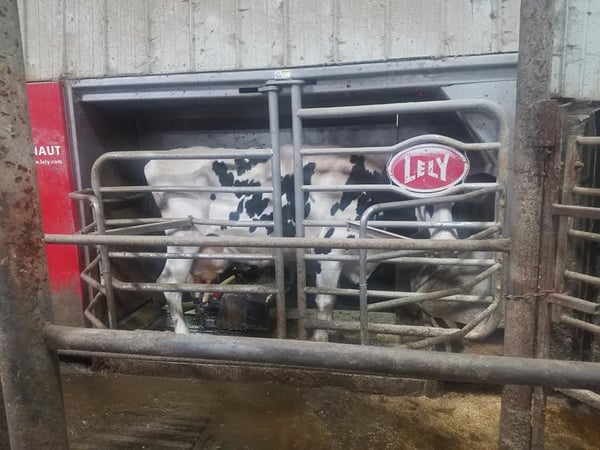 20 Years with Lely Robots
July 14, 2000, is a historic day in robotic milking. On that day, Knigge Farms became the first dairy in the U.S. to milk its cows with Lely robots. The Canadian Lely representatives were there to ensure the robots were running properly, and a Lely technician from Canada would frequently visit the farm to help. Being the early adopters of this new technology posed a number of different challenges, the biggest of which included finding the right balance in feed to draw the cows to the robot. The Knigges initially used the feed in the robot to entice the cows in, and stuck to their original TMR system. The family consistently worked with the Lely team and nutritionists to figure out how to balance the energy between the bunk and the robot. After three years, the cows were flowing smoothly through the robots. Despite these early trials and errors, the Knigges wouldn't run their dairy any other way.
"This is the only way to milk cows," said Charlie.
After 10 years of milking with robots, Central Ag Supply Inc. became the Knigges' first local Lely Center in Juneau, Wisconsin. With a dealership close by to support them, the Knigges decided to upgrade to two new Lely Astronaut A3s. The transition was seamless, with the removal of the old robots and installment of the new taking less than one day. By the time the new robots were in, the cows were chomping at the bit to be milked and did not care about the change. Charlie was trained in the new software, and now makes full use of the each individual cow's data, which he can see on his phone with the Lely T4C InHerd app.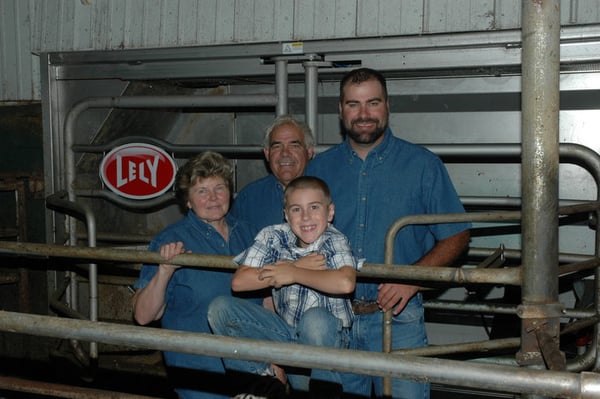 From left to right: Theo, Pete, Jacob and Charlie Knigge from several years ago in front of one of their Lely Astronaut A3 robotic milking systems.
A Lely open house was hosted at Knigge Farms shortly after the installment of the Lely Astronaut A3s, where a Lely Juno automatic feed pusher was demoed. After pushing feed for the cows for the week following the open house, Charlie loved it so much, he told Central Ag Supply Inc. to just leave him the bill when they came to pick it up. He appreciated having the feed pushed up all night long so the cows always had access. Knigge Farms also has a Lely Calm automatic calf feeder to support their calves' healthy growth and development.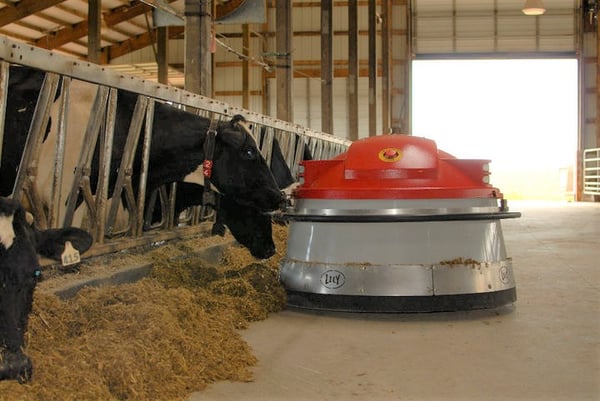 Evolving with Robotic Milking
Using his many years of experience with Lely robots, Charlie has helped other dairies with their startups. He supports other local Wisconsin dairies and has traveled to Utah twice to assist operations with the transition.
"I do it because it took us a long time to figure out robots and I enjoy helping other farms get up and going as fast as they can. It's really neat to see how quickly things can progress these days," said Charlie.
As technology has evolved, so have the Knigges, who are installing their third Lely Astronaut upgrade this fall. While helping with startups, Charlie has seen how the Lely Astronaut A5 operates and is ready for a quicker, better robot. Construction has begun on two 15x35 lean-to additions that are being built on either side of the existing barn to house the new robots and equipment rooms. Because of these additions, it's possible for the Lely Astronaut A3s to continue to milk the herd throughout installation.
Something that was always on Charlie's bucket list, he and Jacob visited Lely North America's factory in October of 2020 where they were able to see where their new robots are being built. They also had the opportunity to sign their new Lely Astronaut A5s. Jacob is a high school senior and has aspirations to study engineering so touring the factory was very intriguing to him. The father-son duo also had the opportunity to visit a few dairies along the way to Pella that operate Lely Vector automatic feeding systems. The Knigges are excitedly anticipating startup, which is expected to take place in December of 2020.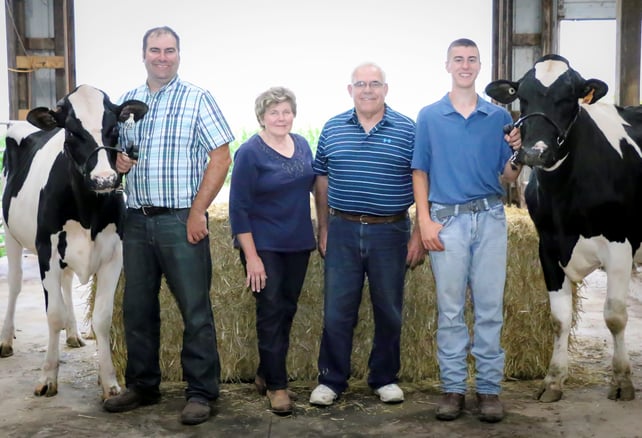 Lely Robots Changed Knigges' Lives
The Knigges won't hesitate to tell you how robotic milking has changed their lives. Pete has had two hip replacements and also has bad ankles as a result of milking cows in the stanchion barn, but Lely robots have allowed him to continue to actively farm. Charlie doesn't think he'd still be milking with the old system because he didn't want to experience the same labor requirements that would take a toll on his body.
"Milking with Lely robots has allowed us to continue dairy farming. I also now have the flexibility in my schedule to watch my son play soccer," said Charlie.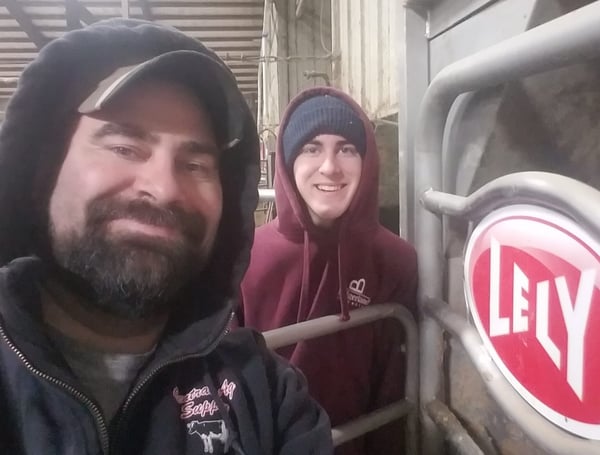 Knigge Farms also gives quite a few farm tours, where Pete enjoys explaining robotic milking to a wide audience — from urban residents to university students. People are curious to see where their food comes from, and the Knigges are happy to show how their operation truly cares for its cows. With the help of Lely robots, the cows are very friendly and truly show off their personalities. After 20 years with Lely robots, the Knigges are proud to say they wouldn't do it any other way.
Take Advantage of Lely's $5,000 Discount
Now that you've read about the first Lely Astronaut in the United States, don't miss your chance to take advantage of our 5,000th Robot Celebration offer! We are giving you the opportunity to receive a $5,000 manufacturer discount on each Lely Astronaut A5 robotic milking system and Lely Vector automatic feeding system you purchase. Click below to claim your $5,000 voucher: