At Lely, we believe that the Astronaut A5 robotic milking system is the most cow and farmer-friendly milking system on the market today. To aid in the design the Astronaut A5, we carried out extended market investigation to gain knowledge about the drivers and values of farmers.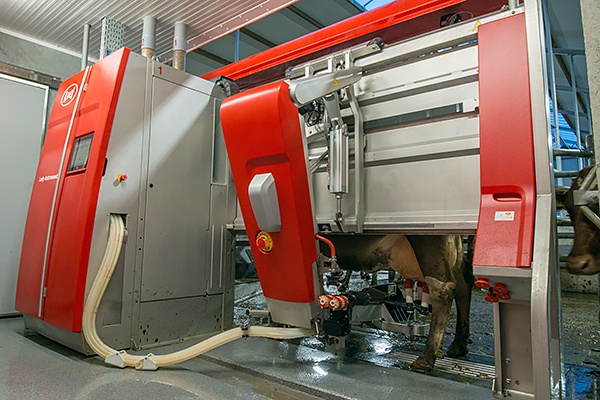 The result was that four main pillars fit the need of the markets we are operating in: cow comfort, ease of use, reliability and return on investment.
1. Cow comfort
We managed to build a carefree concept around the cow, to ensure that cows enjoy being milked within a low-threshold system. We took cow comfort to a new level with a unique, precise robot arm and the I-flow concept. As a result, visiting behavior increases along with robot capacity.

Lely's focus on automation resulted in a quick, easy to do first milking made possible by the hybrid arm and new interface. With only two clicks on the E-link to start the first milking, the farmer can focus on the cow while the connection process is fully automated.

The hybrid arm improves performance with a decisive, fast and consistent connection to the teat, a bigger reach, auto calibration and accurate post-dip. It also is much more silent as the time the compressor is running to make compressed air has been reduced by at least 85%, giving substantial energy saving, without sacrificing functionality.
2. Ease of use
We understand that having easy ways to control your milking robot increases job satisfaction. The intuitive user interface displays all relevant information and offers fast access to important functions. Milking a fresh cow has never been so easy: simply push the button to connect or feed.

Save as much as two hours in daily maintenance with easy access to main tasks and convenient functions with the more intuitive user interface. With new buttons such as Today's Actions, you will always have the most up-to-date actions that need to be performed with grouped buttons.

First milkings have never been easier as you can lure cows with pellets and auto-align the hybrid arm, making it a one person job.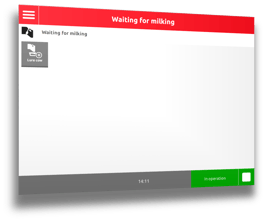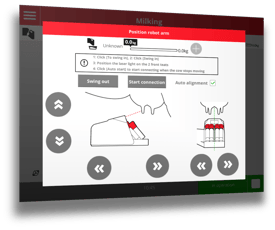 3. Reliability
The Lely Astronaut A5 stands for serviceability and high-quality components. Because of the unique design, it ensures a significantly lower cost per pound of milk produced. The energy-efficient hybrid arm enabled enhanced – faster and more secure – milking robot performance.

With limited electrical and fast movements, the Lely Astronaut A5 has a very solid construction. We worked with our technicians and have addressed and/or replaced seven of the top sensitive warranty parts. In addition, thanks to the spacious heart of the robot – the central unit – robot parts are better in reach, enabling technicians to carry out the (preventive) service faster.

This results in a reliable and easy to service robot that gives you the opportunity to enjoy maximum uptime and lower maintenance costs.
4. Return on Investment
Working closely together with our pilot customers worldwide, we received very valuable feedback while developing the Astronaut A5. Based on this feedback and over two million milkings, important parts and processes were redesigned leading to lowering the energy consumption of the milking robot.

The Lely Astronaut A5 milking robot is built to achieve a significantly lower cost price per pound of milk. And smart techniques lead to minimum energy use.

The unique hybrid arm in combination with lowering the compressed air requirement and water consumption results in energy use reduction of up to 20%. Built to last, it's a trustworthy partner on your dairy farm.
Easy to service, built to last and energy-friendly: that is what you will experience when milking with the Lely Astronaut A5. Add to that optimal cow comfort, and you'll enjoy a higher milk yield at lower costs.