Honey Creek Dairy of Strawberry Point, Iowa, recently celebrated its first anniversary with Lely robots. Brothers Dan and Don Venteicher, along with their father Richard and Dan's wife Jamie, own and operate the dairy together. They currently milk 180 cows with three Lely Astronaut A5 robotic milking systems and feed with the Lely Vector automatic feeding system.
Lely Vector Increases Milk Production
Having previously milked in a parlor, the Venteichers knew they needed to head in a different direction to give their family more flexibility. The conversation about robots began around two years ago when the Venteichers toured another farm that had Lely robots. After touring various other robotic milking dairies and working closely with Precision Dairy Equipment's Farm Management Support (FMS) advisor Leah Lange, the Venteichers realized Lely automation would give them the flexibility and labor savings they were looking for.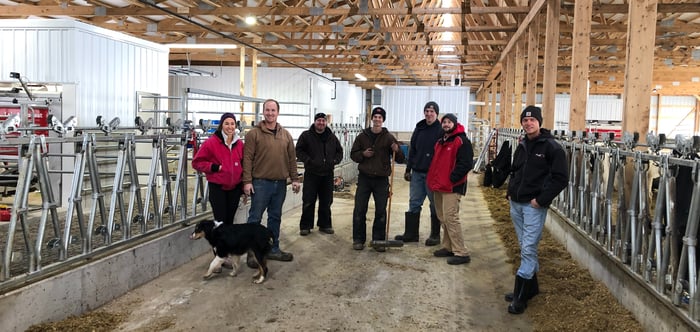 Honey Creek Dairy fired up its Lely Vector in December of 2019, 30 days prior to the installation of its Lely Astronaut A5s. Within the first month of using the Lely Vector alone, the Venteichers saw an increase of up to 3 lbs. in milk production. The herd's average components also improved, with an increase of up to 0.2% in average fat and up to 0.08% increase in average protein. The team saw a definite difference with the Lely Vector alone, and can now make quick, dialed-in adjustments to their feed mix.
"Frequent feeding gives us a lot more ability to make adjustments more quickly. In the past, we'd dump feed twice a day or in the winter time I'd dump it all in the morning, and if we saw something we didn't like in the cows, we had to wait a full day before we could make any changes," Dan said. "I can now make ration adjustments on T4C, and half an hour later that batch of feed will go to the cows. It allows us to be a lot more on time and get things dialed in really quickly."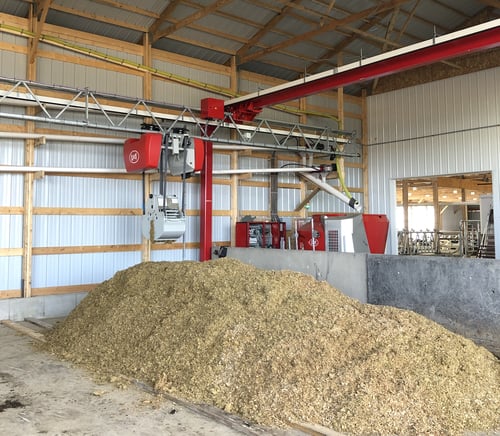 Lely Robots Exceed Benchmarks
Going into 2020 with Lely robots, the Venteichers knew the exact production numbers they needed to see in order to ensure a return on investment. Before robots, they were averaging around 86 lbs. of milk per cow per day, and set a goal of reaching 91 lbs. of milk production with automation while also prioritizing high component numbers to remain profitable. For the first six months, they were consistently at or above that goal. The dairy truly hit its stride within the past few months and is now averaging around 99 lbs. of milk per cow per day.
Because of the Lely Vector, the Venteichers have also seen fuel savings of at least $1,500 per year. They are saving even more when considering the high cost of planetary oil for the TMR mixer, wear and tear on the tractor engine plus the cost of tractor tires, filters and more. They have also seen a decrease in electricity costs by $900 per month since installing Lely robots.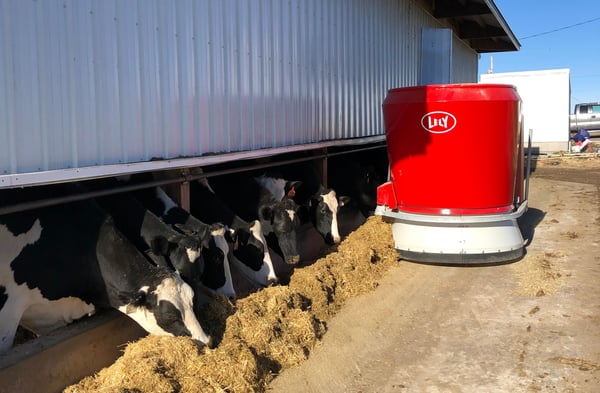 Dan keeps a close eye on feed refusals, and hasn't seen the need to clean up the feed as often. The Lely Vector gives the cows a fresh, well-mixed feed that doesn't give them the opportunity to sort. In the past, the Venteichers would dump feed once or twice per day that would lose considerable quality within hours, especially in the summer heat. Frequent feeding with the Lely Vector allows them to feed the cows what they need to eat right now, and doesn't give the feed a chance to spoil.
Hopes Become Fully Realized with Lely Solutions
Dan will tell you that what they were hoping for with robots has truly been realized.
"Robots have given us much more flexibility. Especially when a guy is gone for the weekend and there's just one man in the barn. You can get everything done, because you can do things when you want to," Dan said. "The flexibility on a personal and professional level has been great for us. It's been everything we hoped for."
Ready to see more flexibility in your schedule and increase your dairy's production like Dan? Now is the time to save $5,000 on the Lely Astronaut A5 and Lely Vector! Click below to claim your credit: