One of five recipients of Lely North America's $1,000 scholarship for 2019, Grace Howe was chosen from a strong group of applicants due to her impressive commitment to dairy production. An active FFA member, Grace is involved with a variety of agricultural organizations while attending Iowa State University in pursuit of a degree in Agriculture and Society.
Grace has first-hand experience on a dairy operation, having worked on her grandparents' farm since she was a little girl. Buying her first calf in 2nd grade, Grace shows jersey cattle and has even twice shown at the World Dairy Expo in Madison, Wisconsin. She currently owns twenty-two head of Jersey cows.
Since 2014, she has been a farmhand at Lucky Brother Farms, where she has gained a whole new perspective of dairy operation management. Through this position, she has she been involved in daily milking responsibilities and field work, as well as strategic planning to increase milk production.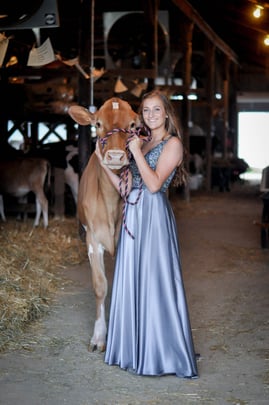 This well-rounded individual is not only willing to get her hands dirty on the farm, she also has experience on the dairy princess contest stage. This competition is dedicated to crowning winners who will promote the nutritional benefits of dairy, as well as educate the public on how dairy operations produce wholesome products to consumers. Grace has won three dairy princess titles since 2018, including Iowa Alternate Dairy Princess 2018-2019.
Grace's dedication to, and knowledge of, dairy production truly shined through in her essay. When asked how she would describe the short- and long-term benefits of using robotics to a dairy producer and how an investment in robotics could be beneficial, she was able to give several real-life examples as support. Her justifications included annual labor savings, less stress on cattle, increased milk production and the ability to view/utilize data provided by the robots.
Receiving this scholarship means a lot to Grace. She is excited about putting it toward her education that will lead to a career in the dairy industry.
"I am proud to represent my state as the only Iowan to be selected by this large company. I did a report about Lely robotics a few years ago, so winning this scholarship is especially meaningful to me."
Thank you for your excellent submission, Grace, and congratulations!
Other Recipients: