This fall, Lely is celebrating the installation of North America's 5,000th Lely Astronaut, and we are excited to share more about the dairy who received this milestone robot. Fred Rau Dairy in Fresno, California, will be making the switch to robotic milking early next year, and the team was thrilled with the surprise delivery of this special machine.
Turning to Robotic Milking for Sustainability
With a milking system that is more than 35 years old and many recent changes in the dairy industry, the Fred Rau Dairy team knew it was time for a transition in their operation's strategy. They needed to find a new method that would require less labor than their current stanchion barns and open corrals in order to remain sustainable. Principal owner W. Fred and his daughter Shonda Reid started planning next steps for the dairy. Shonda's husband Michael and their daughters, Lauren and Jordan, assisted in the decision making. The team went on several dairy tours across to the U.S. to find the right system for them, including those in the states of Indiana, Idaho, Utah and California. During these tours, the robotic dairies truly stood out. They were amazed with how quiet the facilities were with calm, relaxed and comfortable cows. They also noted the high milk production at these automated dairies, and loved how the robots would alert the herd managers if a cow needed extra attention. Overall, the Fred Rau Dairy team was impressed by the reduced labor costs and the high standard of cow care the robots could provide.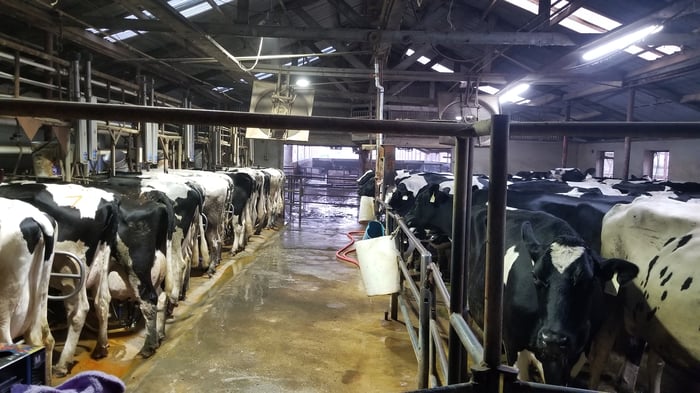 One of the dairy's stanchion barns that will soon be replaced with new robotic facilities.
Planning for the Future with Lely Robots
After several years of touring and considering their options, the family knew Lely robots checked the most boxes for their operation. Although W. Fred was initially hesitant about the idea of robots, Michael and Shonda were passionate enough about the need for this change to convince him otherwise. Michael took charge of putting together the financial proposal for the project, and W. Fred was sold.
"After I had seen robots at a farm show about ten years ago, I told dad we needed to do that and he just laughed. Now he's just very excited about the whole thing. It's a good plan, my girls love the idea and this is our way to stay in the business," said Shonda.
| | |
| --- | --- |
| Construction site of Fred Rau Dairy's two new free stall barns. | Lauren and Jordan with their kids in one of the dairy's new barns. |
Fred Rau Dairy had worked with Avila Dairy Equipment, Inc. for over 20 years, and the Rau/Reid family knew Richard Avila's team would be a great collaborator for this ambitious project. Partnering with this Lely Center, Fred Rau Dairy has invested in 24 Lely Astronaut A5 robotic milking systems, four Lely Juno automatic feed pushers as well as a few Lely Luna cow brushes. TDR, Inc. has been tasked with building the two new free stall barns that will be 125,000 square feet apiece and provide additional room for support stock as well. Each barn will have the Lely Astronaut A5s arranged in an L-shape design with three robots per string. Construction of the new facility is well underway, and startup is expected to occur early next year.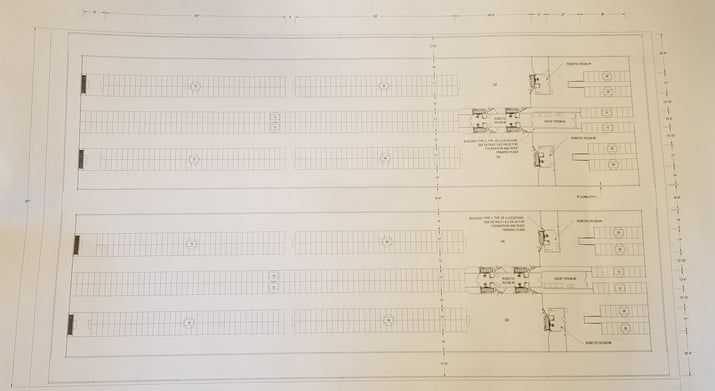 Layout of Fred Rau Dairy's new barns.
Fred Rau Dairy was first established in 1942 by Fred Rau and his brothers. The two flat barns that are currently in use were built in 1953 and 1964 which both house the dairy's 1,400 milking cows and auto take-off stanchion milking systems. The barns are also attached to dry lots with corrals. Besides the dairy, the operation also farms approximately 2,800 acres of cropland including alfalfa, almonds and sorghum silage. Fred's son W. Fred is now the principal owner and president of the corporation. His daughter Shonda Reid acts as the dairy manager of the operation and her husband Michael, whose day job is a Deputy Chief for the Fresno Police Department, is also very involved with the business. The Reids' daughters Lauren and Jordan assist with the management of the dairy and farm operations as well.
The Reids recently received a surprise during the delivery of their Lely robots. Lely is celebrating the installation of North America's 5,000th Lely Astronaut, and Fred Rau Dairy was the lucky recipient of this landmark robot. This machine was signed by Lely North America's team, and the unveiling was celebrated with flutes of milk and a personal message from the Lely North America's president Chad Huyser.
"We were very excited! I had seen things about the 5,000th robot on social media, and loved how everyone signed the robot. It was just really cool - we're honored to receive this robot," said Shonda.
Looking Forward to Startup with Dairy Automation
The Rau/Reid family is looking forward to experiencing the benefits of Lely robots with their new facility. The team will have to learn a completely different cow management style, but believe it will overall make everything much more simple, efficient and sustainable for generations to come. They are excited by the fact that the L-shape design of the robots will help them sort the special needs cows into sorting pens. The team is also installing the CowLocator system that will help them track each cow's position and heat detection for improved overall herd management and wellbeing. They also look forward to the reduced labor requirements and employees will have the opportunity to experience a wider variety of tasks around the farm. Shonda feels confident in her decision to move forward with Lely robots.
"This project answers everything: we can stay in business, it'll be smoother and my girls can continue to manage the dairy while raising their young children. There's no reason to go back and change my mind - I wish we had done it sooner," said Shonda.
Congratulations to the Fred Rau Dairy team, and we look forward to startup!