Dairy farming is the biggest sector of Puerto Rico's agricultural industry, due to the fact that the island must produce its own milk to meet the demand of a fresh product. Until recently, dairy automation products were not available in Puerto Rico. The innovative partners of IDEA Solutions saw the need for this technology and worked with Lely North America to make it happen. Read on to learn more about the introduction of robotic milking to Puerto Rico.
IDEA Solutions Supports Innovative Technology
In 2018, Juan David Perez, Henry De Los Santos and Alex Maisonet partnered together to found IDEA Solutions, with the intent to design and develop innovative technology projects. One of their company goals is to promote the use of technology in Puerto Rican agriculture, and upon further research, they knew Lely automation was exactly what they were looking for. They contacted Lely, and persuaded the company to send a representative down to Puerto Rico to assess the market for dairy robotics. The IDEA Solutions' partners and Lely Regional Sales Manager Jerry Claessens visited several dairy farms, and Jerry was impressed with the farmers' desire to embrace new technology to improve their businesses' production and efficiency. Despite being a small territory, Puerto Rico boasts approximately 250 dairy operations.
"Even though we are a small island, there are quite a few farms and a demand for this kind of technology," Juan David said.
Espinosa Dairy of Camuy, Puerto Rico, was part of this tour. Dairy owner Carlos Espinosa had been interested in milking robots for about ten years, and knew they would provide a more efficient and sustainable system than his parlor. Once Carlos knew IDEA Solutions had established a good relationship with Lely and offered expertise in dairy robotics, he was on board with the project. The Department of Agriculture of Puerto Rico also saw the benefit of this opportunity, and granted Carlos a 50% government incentive that is available for science and technology initiatives. Carlos was the first recipient of this grant.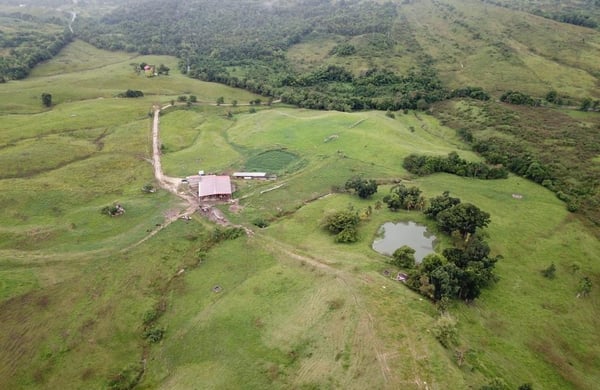 Aerial shot of Espinosa Dairy.
First Lely Robots Arrive in Puerto Rico
At the end of 2019, the partners of IDEA Solutions traveled to the U.S. to receive startup process and technical training at Lely North America's training center in Pella, Iowa. Due to the COVID-19 pandemic, robot installation and startup at Espinosa Dairy were delayed. However, Lely North America Technical Education Specialist and Product Specialist Brice Loonan was able to visit the dairy in November to offer technical support during the installation process in the farm's existing barn.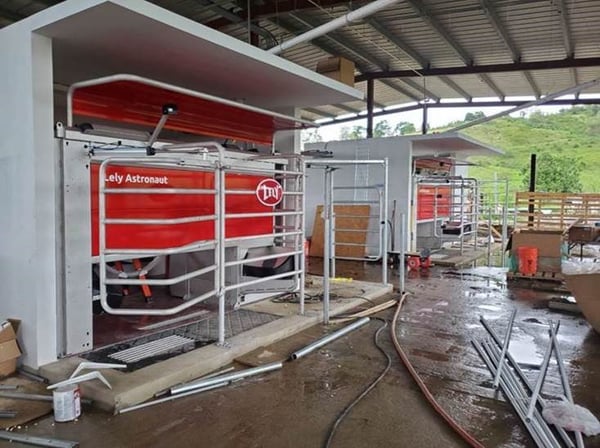 On December 8, 2020, the first dairy in Puerto Rico began milking with robots. IDEA Solutions' team was there to support the process, and on site for the first labor-intensive days of pushing cows through the dairy's two Lely Astronaut A5 robotic milking systems. After a challenging first week, the majority of the cows were going through the robots without having to be pushed.
Intensive grazing is a common practice for Puerto Rican dairies, so Carlos also invested in a Lely Grazeway selection box that works with the milking robots to ensure optimized milking and grazing. Even with recent travel limitations, Lely North American representatives had the capability to remotely support IDEA Solutions' staff, and Juan David believes this played a huge part in the overall success of the dairy's startup.
Carlos's dairy is in a mountainous region of Puerto Rico, so his 125 cows are mostly Jerseys due to the fact that their smaller build allows them to better climb steep terrain to reach more grazing areas. Lely offers a "Jersey kit" on Lely Astronauts for smaller cows, which involves more bracketry to help the robot's camera to better see underneath the cow and stabilizes the cow for optimized teat cup connection.

The Lely robots' data has proven to be of much value to Carlos and his team, and has given them capabilities that hadn't been seen before in Puerto Rico. They now not only know how much each cow produces, but how much each teat produces as well. The dairy's Lely MQC-C also monitors the somatic cell count (SCC) for mastitis prevention. The cows are milking more than they did with the parlor, with an average of 2.8 daily robot visits after just one month into startup.
Excitement Builds for Robotic Milking in Puerto Rico
Excitement for this robotic milking technology continues to build on the island. Shortly after Espinosa Dairy's startup, Puerto Rican government officials held a press conference at the farm to inaugurate the territory's first robotic milking dairy and further promote their support of this technology. Government support plus the ability to actually visit a robotic milking dairy in Puerto Rico has convinced more dairy producers to take on this kind of project. When farmers visit Carlos's dairy and see the robots in action, they can't help but get excited. Four of IDEA Solutions' customers are currently going through the incentive grant application process, with one in the midst of construction and startup scheduled for the end of February.
The team at IDEA Solutions took away many key learnings during their first robotic milking startup, and are excited to use their first-hand knowledge to aid more dairy producers with automation. They truly believe Lely robots will be a game-changer for Puerto Rico's dairy industry.
"There are a lot of farmers interested in this system that have a family business. For those who wish to pass the farm on to their children, they need a sustainable way of milking cows. It is more difficult for them to rely on labor in a parlor system than it was in the past. I think people will see it as a way to continue long-term and in a more reliable way," said Juan David.

Lely North America is excited to see the spread of robotic milking technology to Puerto Rico, and we look forward to seeing more red robots on this island in the future!