Cinnamon Ridge Dairy of Donahue, Iowa, is run by the Maxwell family, who have a clear passion for dairy farming and the promotion of agriculture to a wide audience. The Maxwells have been milking their Jersey herd with Lely robots since 2012, and have recently become number one in the U.S. for milk production and protein.
Persistence in Dairy Farming
John Maxwell is the fifth generation of his family to dairy farm with Jerseys in Iowa's Scott County. After growing up on his father's farm, he received a psychology degree at the University of Iowa but decided he wanted to follow in his farming family's footsteps. John managed to come up with $1,000 for a down payment on his own 180-acre farm in 1988. With some carpentry experience learned on his father's farm, John built his own 40-cow, tie-stall barn that he milked his cows in for two decades.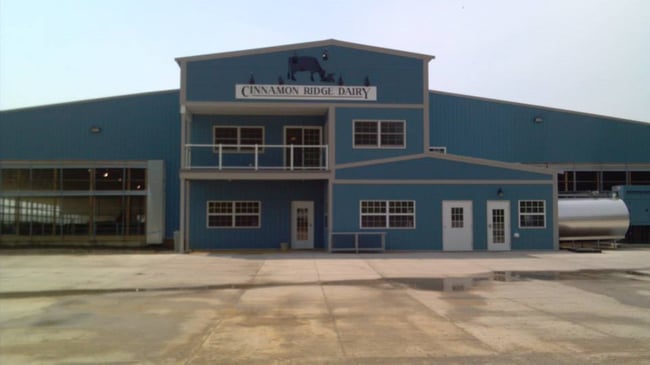 John doesn't hesitate to tell you that persistence and luck are part of farming, and it is clear that he and his family have the determination to keep pressing forward into the future. John's wife Joan is a key part of the business and manages Cinnamon Ridge Dairy's finance, advertising, communications and more. Their daughter Amy has always loved cows and knew she wanted to be a dairy farmer from a very young age.
The Maxwells saw milking robots for the first time at the World Dairy Expo. Amy was a high-performing academic and tech guru, and knew robots were the way she wanted to go. After attending Iowa State University, Amy worked at various robotic dairies throughout the country to gain more experience with this technology. Lely robots were the ones that stood out to her.
In 2012, the Maxwells built a new free-stall barn that houses 235 Jersey cows, that are all milked by four Lely Astronaut A4 robotic milking systems. They designed a barn that has the robots in the middle and two feed alleys on either side. The Maxwells also have two Lely Juno automatic feed pushers that ensure fresh feed at the fence in both alleys. Their milking robots are arranged in a head-to-tail configuration with two robots on either side of one robot room. The facility also has a centralized tour room and office space where Amy is able to monitor the cows' data that is gathered from the robots. Amy is in charge of running the robot barn, and has the technical and mechanical skills to make the operation a true success.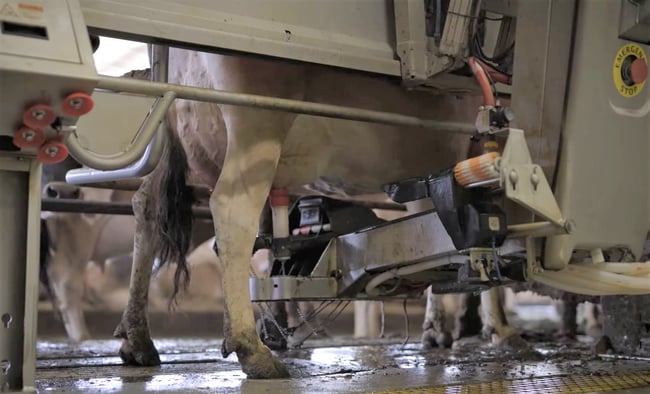 The Maxwells' local Lely Center, Eastern Iowa Dairy Systems, has been with the family every step of the way.
"I can't say enough good things about them. I've been all over the world and can attest to the success of a farm depending on a good dealer. The dealer network is one of the key pieces to the equipment you're selling, and in our case, we have a really good one," John said.
Top-Producing Jersey Herd in the U.S.
With the help of Lely robots, Cinnamon Ridge Dairy has become the U.S.'s number one Jersey herd for milk production and protein, and also rank third in fat. Their herd currently produces an average of 76.4 pounds per cow per day, 3.8% protein and 5.05% fat. They also have an average of 3.2 robot visits per cow per day and 96.7 energy corrected milk (ECM).
"One of our big goals since 1979 was to be number one in the nation for milk production and two years ago we achieved that goal. One thing that we knew would help us achieve this goal was cow comfort. Therefore, we decided to use sand and felt that Lely by far handled sand better than its competitors," John said.
The Maxwells are appreciative of the data they're able to analyze with the Lely robots, and believe it has enhanced their decision-making capabilities.
"Being able to monitor milk production and all the things that surround that are absolutely essential to the progress of the dairy. We are in a instant information world. We Google something when we want to know it. This is the way businesses are going, including the dairy industry," said John. "Today we can check production daily or even hourly. This is essential to maximizing profitability, whether you're number one or last in the nation. It gives the dairyman a leg up on many, many decisions."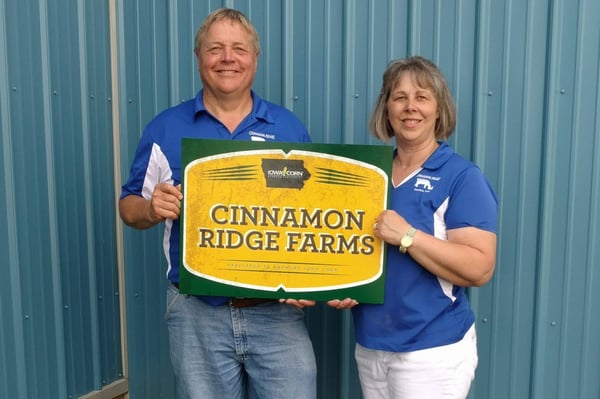 Weaving Together Sustainability and Technology
The Maxwells have a unique ingredient in their cow's feed: expired, powdered coffee creamer. John is always looking for feed products that are cheaper and/or destined for the landfill that will also increase the herd's production. He has experimented with various food products, even giving chocolate cake mix a try.
"Using coffee creamer is woven into sustainability in dairy and agriculture, which means that we're using things that would normally be thrown away or not conventionally used for feed. You end up having a whole new buffet of things to feed your cows," John said. "And a lot of those things we can keep out of the landfill. I define these things as good for the people, good for the animals and good for the planet."
With their Lely Astronaut A4s, the Maxwells are able to track how different feed mixes impact their herd's milk production. By assessing their robots' data, they were able to prove that the coffee creamer was increasing their profitability.
Cinnamon Ridge Dairy not only includes a dairy. The Maxwells also raise beef cattle, chickens and pigs, and produce soybeans, corn and winter wheat. They also have their own cheese plant that is managed by John's brother Edwin. The farm has its own store where the family sells its home-grown beef, eggs and cheese. The Maxwells are also dedicated to educating people about agriculture, and offer tours on their farm. In a typical year, they welcome up to 7,000 tourists to their farm, 2,000 of which are from other countries. When people see the farm's Jerseys being milked by robots, they're flabbergasted by the technology of the system.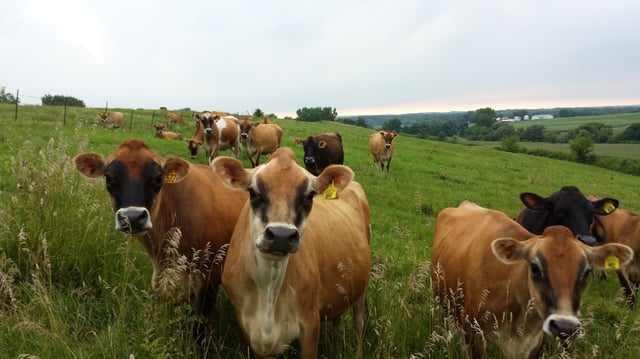 John believes technology and efficiency are the future of dairy farming.
"I think, if you're thinking of the future of the dairy industry and in the climate of today's labor, one has to at least consider robotic milking and becoming more efficient. I understand they're more expensive at first, but from our standpoint, we are very happy with our robots," John said.