Roger Boersen and his kids, Krista and Adam, represent the third and fourth generations of their family to milk cows on the current site of Boern View Farms Ltd. in Ontario, Canada. Because of the space constraints in their parlor, maternity area and milking cow barn, the decision was made to build a new facility with Lely robots.
Lely Robots Allow Consistent Milking Process
Roger Boersen's grandparents emigrated from the Netherlands to Ontario and started milking cows at the farm's Gad's Hill location in 1950. Roger takes care of managing the entire operation while Krista is in charge of employees and robot maintenance and Adam takes care of various barn tasks, farming the operation's 2,000 acres of cropland and tech support.
Before robots, the team milked in a parallel parlor system, but needed something that would resolve the labor shortage challenge in their area. The Boersens toured at least 25 dairies in multiple countries, going as far west as British Columbia and as far south as Mexico. A big part of the Boersens' decision-making process involved weighing robots against a rotary parlor. Milking robots, and Lely red ones at that, ultimately offered the team what they were looking for.
"We chose robots because of labor availability challenges, cow welfare and the ability to milk cows exactly the same way each time," said Roger. "We wouldn't have to constantly train new employees on how to milk cows like we did in a parlor system. We were quite impressed with how the Lely robots attached and performed consistently."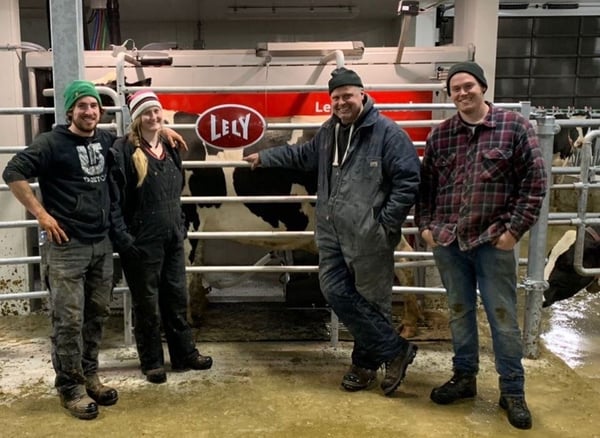 Ideal Herd Management Achieved with Robot Barn Design
Construction on a new cross-ventilated facility began in 2019. Ten Lely Astronaut A5 robotic milking systems were installed in the new barn while one milking robot was retrofitted into the operation's existing build for fresh cows. The fresh cow robot was first utilized four months ahead of the rest, giving fresh cows two weeks of milking with the Lely Astronaut A5 before going back to the parlor system. This allowed approximately half of the Boersens' herd to receive two weeks' of training before startup with the remaining ten robots.
Startup with the majority of Lely Astronaut A5s began on December 2, 2019. The team had three people man each robot, many of whom were individuals provided by the Boersens' local Lely Center, Avonbank. During the first week of startup, someone from the Lely Center was on site 24 hours per day. Between Avonbank's support and Krista's highly organized schedule, startup at Boern View Farms Ltd. went quite smoothly.
Each pen has an 110-cow capacity with two Lely Astronaut A5s configured in the small L design, with 450 total cows milked with robots. This layout helps the team sort animals that need special attention.
"We're happy with the sorting capabilities of the Lely Astronaut A5s," said Roger. "Any cow that's sick or needs attention is automatically sorted into the treatment pen. Ninety-nine percent of treatment tasks are being done in the treatment pen."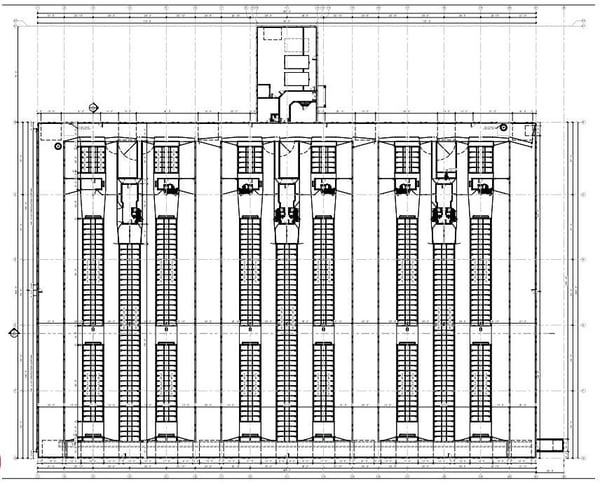 Robotic Milking Enhances Dairy Cow Comfort
Lely automation has ultimately improved the operation's overall performance. Their daily average production per cow per day increased by up to 11 lbs (5 L) after the switch to robots and the herd is currently averaging at 94.5 lbs (43 L). Their average protein is currently 4% with an average fat of 3.2%. Their breeding program has also improved as a result of Lely robots.
"Our breeding was good before, but our pregnancy rate is now at 42% and I think robots have helped with that," Roger said. "We were in the mid-30s before, but now we're even better. It all has to do with the improved cow comfort."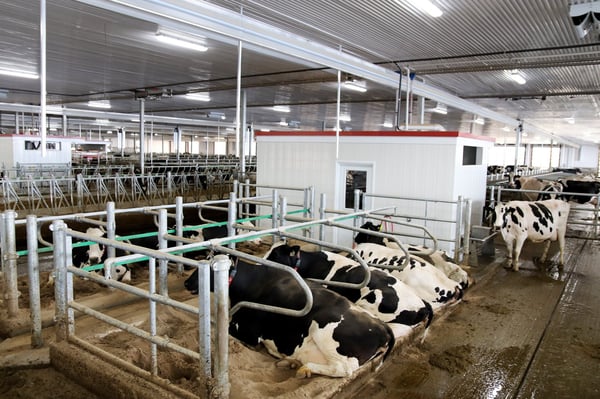 Lely Robotic Feeding Solutions Improve Flexibility
The Boersens also have a Lely Juno automatic feed pusher that supports consistent feed at the fence for their herd 24/7. This machine, paired with the overall reduced labor requirements as a result of the milking robots, has significantly changed the operation's schedule.
"It's very important to have a Juno when you have robots because you don't have people in the barn at night," said Roger. "Before robots, the first shift started at 4 a.m. and the last one ended at midnight. We still start early with robots, but we now start at 5:30 a.m. and finish up at 8:30 p.m. Overall, the transition to robots has saved us 20 hours of daily labor."
The Boern View Farms Ltd. team is pleased with their operation's overall improved performance and efficiencies as a result of Lely robots, and look forward to their future with dairy automation.