What if we told you we could offer a robot that not only saves you time normally spent on routine tasks, but also increases the production of your herd? If it sounds too good to be true, let us tell you how to get better feeding with automation!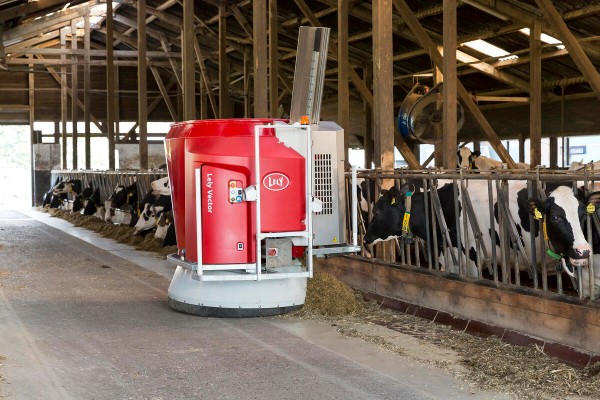 Smart feeding is a concept that we have embraced at Lely and, with the knowledge that more frequent feeding and feed pushing really does pay off, we implemented our Lely Vector automatic feeding system. Stimulating frequent consumption of feed throughout the day and night, the Vector increases feed intake for the herd. This has a positive effect on animal health, fertility and production.
More frequent feeding is about providing the right feed at the right time. The Lely Vector keeps fresh feed available to cows. The mixing and feeding robot measures the feed height to determine when the ration needs to be supplemented, so there is never too much or too little feed at the feed fence.
"Frequent feeding mimics the natural preference of the cow to graze all day," said Joel Eberhart, Feed & Barn Specialist for Lely North America. "It stabilizes their gut and makes the animal healthier and happier."
More frequent feeding will also stimulate the activity of the cows and in cases where a milking robot is used, it will mean more visits to the robot. The result is more milk with better components for increased premiums.
Automatic feeding with the Lely Vector feeding system now goes one step further and offers a number of additional benefits such as:
Low operating costs - Compared to conventional feeding systems, the Lely Vector is very efficient when it comes to energy costs. You save on fuel costs, because you will no longer need the tractor used to control the feed wagon. Customers save up to 1,452 gallons of diesel per year.
Flexible to use - The Lely Vector is developed for all kinds of feed and barn designs, and if you have cattle in various barns on your yard, the automatic feeding system can drive between them independently. The Lely T4C software of the Vector allows you to easily adapt rations and groups.
Saving time - Every day you save valuable time because you no longer have to do the feeding yourself. From the moment when the Lely Vector takes over, your daily schedule becomes more flexible. On average, our dairy customers save about eight hours per week. Beef farmers save even more time. You will have more time for other important tasks around the farm or your personal life.
Frequent feeding and feed pushing throughout the day and night stimulates the dry matter intake of the herd. This optimizes rumen health, feed efficiency and productivity. By automating this recurring work, you make your life easier, your production more efficient and your business more successful.