The acceptance of dairy automation across all sizes of dairy herds has catapulted in recent years and Lely North America is proud to have been a leader in that movement. In our quest to serve the dairy farmers of North America, we have now created a new award that is designed to honor the best and the brightest in the dairy industry.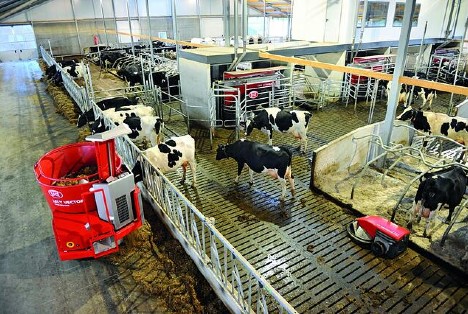 On February 14, 2018 at the World Ag Expo in Tulare, California, we unveiled our new The Way To Dairy Award, in which the grand prize winner will receive their choice of either a Lely Astronaut automatic milking system or Lely Vector automatic feeding system! Qualified candidates are asked to submit an application for consideration, which can be requested at www.thewaytodairyaward.com.
"Lely wants to give the best farmer the best automation on the market, supported by their local Lely Center. Lely Centers span the U.S. and Canada from Quebec to Kentucky across the plains to California and into western Canada to serve dairy farmers across North America," states Chad Huyser, Vice President Lely North America.
Maybe your dairy operation could benefit from a more efficient use of labor, better cow health or increased yields. If that's the case, don't be frightened by these myths and choose the Lely Astronaut milking robot if you're selected as the grand prize winner.
Maybe you need to improve your feeding strategy and could benefit from better returns by giving your cows fresh and well-mixed rations several times a day. In that scenario, the Lely Vector feeding system could add a lot of value to your operation.
This honor will be awarded to the dairy farmer who best demonstrates and lives by the standards of using sustainability and innovation, to create a profitable and enjoyable future in the agricultural sector, while being an animal care advocate and is involved in the dairy industry.
If you think you meet the criteria outlined in the Official Rules, request your application today!