Keep your cost of ownership down and your equipment running smoothly when you perform daily maintenance checks on your equipment. By spending a minimal amount of time preventing problems during the day, you will be rewarded with a peaceful night without alarms while your Lely Astronaut robotic milking system proves why it is the most reliable employee on your farm.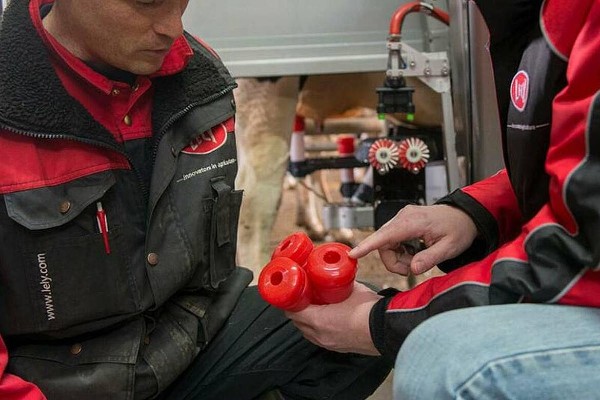 Focusing on the components that keep the robot running, maintenance is vital to a successful milking. Performing these maintenance items will help keep the alarms down and the robot running at peak performance so you are ensured the best production out of your herd.
Daily actions that a farmer should include in their routine are:
Replace the filter element of the single filter and twin filter.
Clean the robot arm and the box, the field of vision of the 3D camera, the TDS II screen and the touch screen on the E-Link.
Review the attention alarms on the E-Link, CRS and T4C.
Examine the attention list on the E-Link and T4C.
Clean the bleed holes and the outside of the teat cups.
Inspect the cleaning brushes, twin tubes, 6-fold tube, cup centering and shells.
Examine the quantity of udder care liquid and the MQC-C reagent and fill the MQC-C reagent container.
Assess the quantity of chemical products in the central unit.
Inspect the air compressor and the air dryer.
Review the robot performance list on T4C.
With a direct correlation on the cost of ownership, proactive care and maintenance of these components will save on service calls and robot downtime will be minimal. It is important to use quality water and the correct cleaning tools when performing these tasks in and around the robot to ensure you are getting the most out of your Lely Astronaut. Lely's line of specially developed Astri cleaning and sanitizing products are the ideal solution for your Lely milking robot. As always, be sure to remember safety comes first, so wear the proper personal protective equipment when you are working with chemicals and robots.
For more details on weekly, monthly, annual and other maintenance guidelines, the producer maintenance checklist is available in the A5 service manual, available at Lely.com within the technical documents. Beginning on page 157, it is a multi-page checklist that is available for print. The checklist can also be downloaded by clicking on the link below.