The winter wind and snow will be blowing soon. Now is the time to consider any issues that could occur on your farm in wintertime, and be proactive to prevent costs of frozen water hoses, cords and water troughs. All of these issues which can affect your cows' behavior, yield and your workload and efficiency.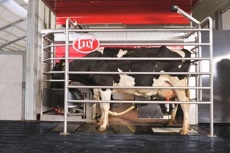 Leah Lange, a Farm Management Support (FMS) advisor for Fitzgerald Inc., a Lely Center in eastern Iowa, recommends a good barn cleaning before winter.
In addition, make sure your rodent control plan is in place before they start eating wires.
"Rodents have been a problem on many farms this fall, so be extra vigilant in checking for problems with mice before the cold temperatures set in," she said. "Assess whether you have already have a problem and then get bait and traps set throughout the barn."
Below is a checklist with tips to prepare you for winter.
If you use heaters within your robot area, test them in advance.
If your robot area is sensitive to cold airflow, think ahead about how to stop this and what kind of materials you might need. Purchase these materials in advance.
Typical rough or worn out cup cords are more sensitive to frost. Check your cup cords and replace them when necessary.
Spray the cords with silicone if needed. Vaseline works well too.
Check and calibrate the correct proportion of water and chemicals for cleaning.
If you are using a 'heating ribbon' for your water supply, check its function.
If you have insulated water pipes, visually check the insulation.
Check that the water boiler is working properly and keeps reaching the desired temperature.
Ask yourself whether your footbath management should be adjusted to wintertime.
If alarms occur, act upon them promptly so the system does not shut down.
Adjust the automatic ventilation control and put fan covers on to make sure barn curtains are in good shape.
Chose a teat dip that has additional skin conditioners to protect the cows' teats from little cracks and frost damage.
For more information on Lely products visit www.lely.com/us